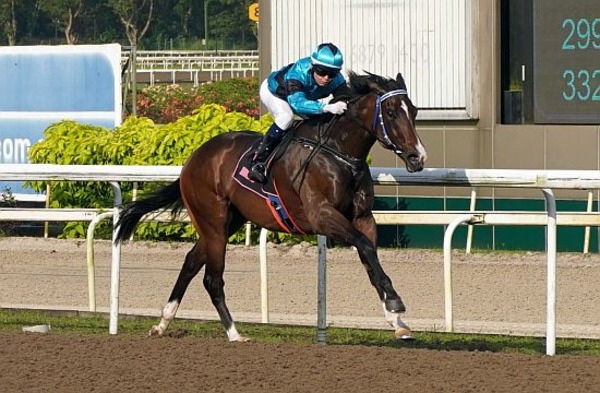 Lord's Command took some time to break his maiden status in August, but barely one month later, the Richard Lim-trained gelding will gun for a hat-trick of wins in the $70,000 Class 3 race over 1000m on Saturday.
Formally known as Shalatin when trained by Joe Pride in Australia, the flashy son of Shalaa finished runner-up as a two-year-old in the 2021 Golden Gift at Rosehill and ran third in the Group 2 Todman Stakes at Randwick last year; but he arrived in Singapore as a 12-start maiden.
It was, however, 'an easy kill' at his Singapore debut in an Open Maiden race over 1200m on August 27. Lord's Command won it easily by six lengths on that occasion with jockey Manoel Nunes on board, but the quality of the field was questionable.
So it was with much interest for all concerned when the Lordship Stable-owned four-year-old took on a solid Class 4 field (1100m) on September 16 and for his growing gang of followers, he did not disappoint.
Again ridden by Nunes, Lord's Command won by an impressive three-and-a-half lengths over a six-time winner on the Polytrack, First Bowl.
While he rose swiftly through the grades in Singapore and would face a solid Class 3 field on Saturday, Lord's Command looked well-placed on 54kgs to keep his unbeaten streak intact.
Lim was bullish about his chances on Saturday.
"I think he (Lord's Command) will be better than Class 3," said the jockey-turned-trainer on Tuesday.
"He would face some good horses on Saturday, so it will give us a good guide, but we get four kilos off the topweight (Gold Ten Sixty-One) and he seems to be the biggest danger.
"A few others are in form too. Akhtar looks like a promising type. It's a good race.
"But he (Lord's Command) pulled up very well from his last start and we didn't have to do a lot with him since that run. He's fit enough, so we just gave him a loosen up this morning.
"Nunes only let him stride out. He's ready."
While Nunes took no chances at both his starts in Singapore – having Lord's Command on the pace from go-to-whoa – Lim suggested tactics could change on Saturday depending on the circumstances.
"A lot will depend on the barriers (drawn on Wednesday)," said Lim, who has nominated 21 runners for the September 30 meeting, including Paletas and Songgong Hera in the Class 3 dash.
"I don't think this horse (Lord's Command) needs to lead. And given the expected early pace in this race, it could be a good time to teach him to settle behind the leaders.
"In saying that, Nunes will decide on the day. If he draws well or jumps well and the opportunity presents itself, he (Nunes) will assess and do what's best.
"But we are teaching him good racing habits which will hold him in good stead later. It sounds odd as this race is over 1000m, but it could be a good lesson for him for future runs over longer (trips).
"This race is winnable too, so it makes sense to keep him in races we think he can win while he is fit and in form and look at other races later."
Nunes – who currently leads the 2023 jockeys' premiership on 74 wins by an incredible 35 wins over a resurgent Marc Lerner – agreed with Lim that Lord's Command was no one-trick pony and will improve with racing.
"I think 1000m is a little sharp for him, but (there's) not a lot of choices," said the four-time Singapore champion jockey.
"Hopefully, we get a good gate and we can follow someone into the race. Akhtar has plenty of early speed, so does Cosmic Dancer and (trainer) Tim's (Fitzsimmons) horse (Gold Ten Sixty-One), then he (Lord's Command) may settle better.
"And I think he will be better on the turf in future. He's still immature and will improve with racing. He's a very nice horse."