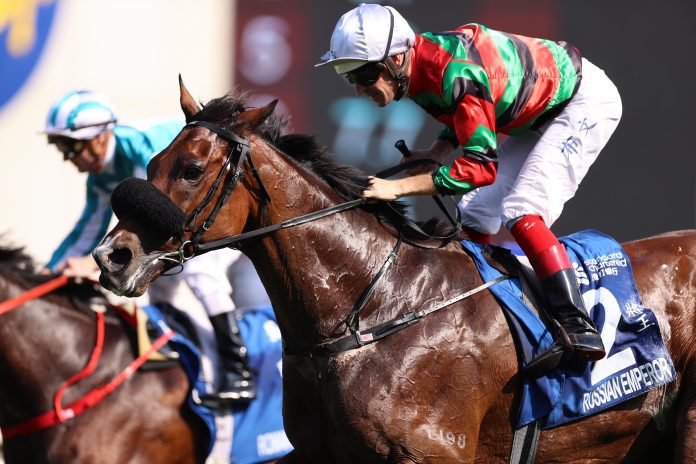 Russian Emperor underlined elite staying prowess to join a select band of multiple winners of the HK$12 million G1 Standard Chartered Champions & Chater Cup (2400m) under a masterful Hugh Bowman ride at Sha Tin on Sunday (28 May) as Douglas Whyte exalted in one of the highlights of an extraordinary career.
Denying raging 1.2 favourite Romantic Warrior by a neck in a stirring battle, Russian Emperor etched his name alongside a string of greats to win the final Group 1 of the Hong Kong season at least twice since 1990, joining River Verdon, Viva Pataca, Exultant, Indigenous, Oriental Express and Blazing Speed.
Whyte, a 13-time champion jockey, snared his fourth Group 1 as a trainer and was clearly moved by the magnitude of 2022 race winner Russian Emperor's latest feat after the regally-bred gelding swept from fifth place on the turn to cut down Romantic Warrior, who led from the start and came under heavy pressure from Money Catcher 800m out.
Clocking 2m 26.87s, Russian Emperor almost certainly clinched Hong Kong Champion Stayer status for the second season in a row as Romantic Warrior staved off a charging Five G Patch to hold second.
"He's (Russian Emperor) a superstar of my stable and he's certainly given me one hell of a ride since he's joined me. We've had our ups and downs but there's been a lot more ups than downs," Whyte said, referencing February's successful sortie to the Middle East where the son of champions Galileo and Atlantic Jewel won the QAT G1 H.H. The Amir Trophy (2400m).
"To travel with him and winning in Doha, and coming back now to repeat that effort on a firm track. You've just got to give it all to the horse. When he won in Doha that was probably the highlight of my career, both as a jockey and a trainer, to go abroad and do that.
"The issues he has to deal with, and then you get a win out of him in a race today on a track that doesn't suit him and it just takes you to another level.
"It's certainly one of the better performances he's done and one of the highlights of my career. But I don't stop there, there's the vets, there's the farriers – there's a whole bunch of people I should be thanking because they're the ones that do the day-to-day work to get this horse to the races and I take the glory and so does the jockey."
Praising unflappable Bowman, Whyte said the Australian's ride was "patience personified, really."
"He's a great jockey to have on a horse, especially in a big race like that. He makes a difference. They were getting cheap sectionals early, the favourite looked like he was just ambling along and dictating affairs.
"Hugh sussed that out and got rolling at the right time. He dug down deep and prevailed. It was a well-executed ride, a very heady ride. He put him to sleep and let things unfold and took advantage of that at the end."
Jubilating in his second Standard Chartered Champions & Chater Cup triumph after Werther's 2017 success, Bowman said: "I didn't have a plan, he's (Russian Emperor) a mile and a half horse and the one trap I didn't fall into was to be out there to beat Romantic Warrior because he's a class horse. I had to trust that it (2400m) would find him out and that's exactly what happened.
"He bounced well from a good gate (five), I had a good run and I could come into it at my leisure without coming into it trying to challenge the favourite – I came in to allow my horse to run his race. Douglas prepared him superbly. He's had a wonderful season, the horse, as has Douglas, and he was just there as the right horse on the right day."
Purton claimed Romantic Warrior would have won if Money Catcher, who finished fifth, had not pressured him at the 800m, also citing stamina issues.
"He (Romantic Warrior) showed today it's (2400m) not his favourite distance, but he tried bloody hard – he was gone at the 600m," Purton said. "Coming into the straight, Money Catcher actually headed me and I thought he was going to drop out, and to his credit, he tried as hard as he could. It was just not his distance.
"We had no choice but to lead. We played our cards and he would have won the race if he didn't get taken on half a mile from home."
Five-time Hong Kong champion Purton endured a rollercoaster day – firing a quartet atop Super Bonus, Stoltz, Circuit Mighty and Red Lion and finishing second in four other races – and broke his own record for the most prize money (HK$235,054,535) won in a single season, surpassing his previous mark of HK$234,989,515 set in 2018/19.
"It's been a good day but it's also been a little frustrating with four winners, four seconds so I was thereabouts," Purton said after boosting his season's tally to 142 wins.
Purton struck first with Pierre Ng's Super Bonus, who swept to victory in the Pakistan Star Plate for Griffins (1200m) before slotting his 140th win of the campaign when Stoltz returned to form in devastating fashion with success in the Class 2 River Verdon Handicap (1000m) for Francis Lui.
"Luckily Zac didn't have a horse to ride in this race, so he was able to ride him again. He jumped well and Zac is the champion," said Lui, who also teamed with Vincent Ho to land the Class 4 Makarpura Star Handicap (1200m) with Moduleconstruction.
Purton's treble came aboard Manfred Man's Circuit Mighty in the Class 4 California Memory Handicap (1400m) before he made it four with Red Lion's triumph in the Class 2 Vengeance Of Rain Handicap (1400m) in tandem with John Size.
Size logged a double when Alexis Badel steered Bundle Of Charm to victory in the Class 3 Oriental Express Handicap (1200m) before Michael Chang's Ching won the Class 3 Indigenous Handicap (1600m) to give Lyle Hewitson a brace.
The South African earlier teamed with David Hayes on Setanta who won the Class 4 Exultant Handicap (1400m) after three-week stint in Conghua.
Caspar Fownes-trained Packing Hurricane posted his third win in a row by clinching the Class 3 Viva Pataca Handicap (2000m) for Harry Bentley before Luke Ferraris piloted The Good Deal to victory in the Class 5 Helene Super Star Handicap (1200m) for Douglas Whyte.
Hong Kong racing continues at Happy Valley on Wednesday night (31 May).
By Leo Schlink, HKJC