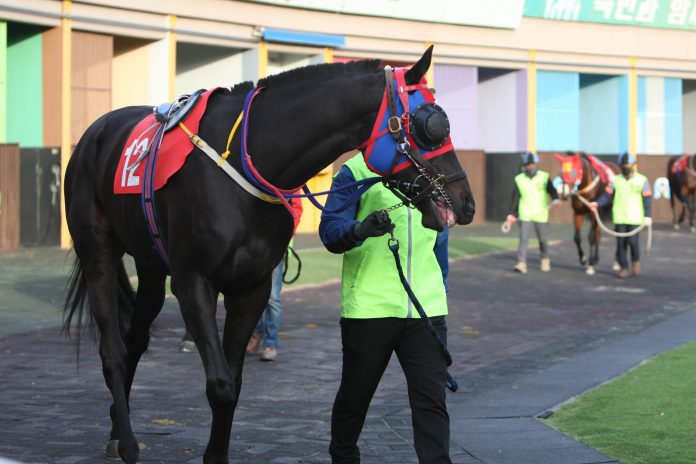 The Triple Crown trail hots up on Sunday as both Busan and Seoul host their official Classic Trials, the Gyeongnam Shinmun Trophy and the Sports Seoul Trophy, both over seven-furlongs, with the first jewel in the Crown, the KRA Cup Mile, six weeks away.
True, some of the names expected to feature heavily in the showcase three-year-old series won't be running. They include Speed Young, last year's Breeders' Cup winner, who is taking his own route to the Classics, having won over a mile at class 3 level earlier this month. Filly Raon Giant, the highest rated three-year-old in the country isn't there either and was unexpectedly beaten at Seoul last weekend.
The races aren't devoid of big names though. Betelgeuse is one of the most exciting of the crop. The striking grey has already won three times over the Derby distance of 1800M against older horses and having skipped the big juvenile races last season, he will be favourite as he drops back in trip to face his contemporaries in the Gyeongnam Shinmun Trophy.
An hour later in the capital, Naol Sniper heads the field for the Sports Seoul. He will be a warm favourite but will face a stern examination from the likes of Nut Play, a two time winner at a mile, and also Raon The Quality, the only filly lining up in either race.
The races have proved a good guide in the past. 2018 Gyeongnam Shinmun winner Divide Wind went on to win the KRA Cup Mile. Mask won the 2018 Sports Seoul and still competes at Class 1, while last year's winner Seungbusa was 3rd in the KRA Cup Mile and then 2nd in the Korean Derby. The races were not run in 2020 or 2021.
Gyeongnam Shinmun Trophy (1400M) Listed
SEUNGNIMAGIC KING [Girolamo – Seungni Laser (Menifee)] – Won his first two outings in fine fashion but has come unstuck in two outings at class 4, both over this trip when slowly away. He first finished a creditable enough 2nd on at the end of January before running well down the field last time out on February 17th. Seo Seung-un remains aboard and he draws well.
ARCTURUS [To Honor And Serve – Korea Number One (With Distinction)] – An also-ran in the Breeders' Cup, he comes in off a runner-up finish over this distance at class 4 level on February 26th. Others are favoured but he draws well for a front-runner and has a big-race jockey aboard.
WORLD LEGEND [Indie Band – Royale Embrace (Chapel Royal)] – 6th in the Breeders' Cup he was an on pace winner over a mile at class 4 level on February 3rd. He draws well and that performance is enough to put him in the frame here
FINAL SEVEN [Tiz Wonderful – Final Girl (Yankee Victor)] – His solitary win was at class 6 level over 1200M, but he has run some fast times at this distance including his last start on February 10th when 2nd having led almost the entire way. Place line.
YEONGGWANGUI ACE [Hansen – Roses Galore (Milwukee Brew)] – Led most of the way around when beaten less than a length by Backtothelegend over this distance on February 17th. Consistently posted fast times and can enter the calculations.
BETELGEUSE [Concord Point – Patti's Sweet Song (Unbridled's Song)] – The highest rated in the race by a full 20 points. After running 5th of eight in the Rookie Stakes, he skipped the big juvenile races to immediately come up in trip to a mile and 1800M winning four of his latest five. With three wins at the Derby distance under his belt already, he will be a big player in the classics whatever happens here. He'll be on pace, and he may be too good.
BACKTOTHELEGEND [Cowboy Cal – Soseono (Aldebaran)] – The only horse in the race to have won at this distance, something he achieved on his latest outing on February 17th at class 5 level when racing handy throughout and beating Yeonggwangui Race by just under a length. Place chance.
GLOBAL HIT [To Honor And Serve – Tammy's Victress (Yankee Victor)] – Won on debut before suffering a setback on his second outing, ending his juvenile campaign. Returned a good winner having settled well back over 1200M at class 5 level in January. Still unexposed he is one of few that is proven from off the pace and he can be finishing strongly here. Chance
I WILL THE STAR [Old Fashioned – Blue Castle (Victoire Pisa)] – Won back-to-back races to conclude his juvenile campaign but has only run fairly in two goes at class 4 this term. Others favoured here.
Selections: (6) Betelgeuse (8) Global Hit (3) World Legend (4) Final Seven
Sports Seoul Trophy (1400M) Listed
NUT PLAY [Colors Flying – Space Shuttle (Menifee)] – An also-ran in the NACF Chairman's Trophy, he has subsequently gone two for two at a mile up to class 4 level. Likes to settle back and run on this may be a bit short but he shouldn't be ruled out.
MAGIC HOUR [Connect – Cashmere Woods (Flatter)] – A class 4 winner at this distance last time settling midfield and running on. He has been all or nothing with three wins and two 5ths from five starts but from a good draw he warrants at least a place chance.
FARCIARZ [Testa Matta – Bumble Bee (Pico Central)] – An also-ran in the Munhwa Ilbo Trophy, he finished up his juvenile campaign with back-to-back wins up to 1300M and class 5 level in fast times. Ran 2nd to Nut Play over a mile in January at class 4 having led for much of the play. Not impossible back at 1400M.
WOLF PLAY [Tiz Wonderful – Two Step Samba (Mineshaft)] – Fast winner over this distance at class 4, making all. He has consistently run quick times and draws very nicely to be on pace and to be in this a long way. Not impossible.
SOMETHING LOST [Hansen – Regal Joanne (Street Boss)] – The only horse in either race who is still unbeaten, he arrives here a perfect three-for-three with his latest win on February 4th at class 4 level over this distance when leading all the way. This is his toughest assignment so far, but he draws very well and he could maintain his record here.
DRAGON STAR [To Honor And Serve – Peregian (Grand Lodge)] – Has the fastest time among these for the distance set when winning at class 5 level on December 4th. Has since been beaten by Giant Punch at 1800M and Raon The Quality over a mile but back down in trip, a good run can't be ruled out.
GIANT PUNCH [Concord Point – Candescent (Silver Deputy)] – He won the Rookie Stakes last August and then ran 3rd in the Munhwa Ilbo Trophy in October despite racing greenly in both. An also -ran in the Breeders' Cup at his latest on January 14th, he was 4th over 1800M at class 4 level. Has had two months off since and should be running on late here. Place chance.
NANOMETA [Federalist – Eoreum Gongju (Forest Camp)] – Yet to win but was 3rd in the Munhwa Ilbo Trophy and then a super 2nd in the Breeders' Cup when flashing home from off the pace. His only start since saw him anonymous and well back over 1800M at class 4 on January 19th but he has shown he could be anything. The wildcard.
RAON THE QUALITY [Musket Man – Tomiken Spring (Suzuka Mambo)] – The only filly in the race, she is "full" sister to Group winner Raon The Spurt. It took her a few races to figure things out but she has now won three in a row including leading all the way over a mile at class 4 level on February 12th, beating Dragon Star. She gets weight from all her rivals, and she is a real chance.
NAOL SNIPER [To Honor And Serve – Garnished Wages (Scat Daddy)] – He has the highest rating in the race and while he could only manage 4th in the Breeders' Cup when drawn wide and slowly away, comes in following an all the way five-lengths win over 1800M at class 4 level. He has won over this distance in a fast time, and he shapes as the favourite
MORNING PRINCE [Morning Calm – Five Gold Rings (Touch Gold)] – Given his chance here having won his latest two at 1300M and 1700M up to class 5 level. He has been strong at the end of his races so the wide draw shouldn't be a problem and while others may be favoured, he can run well.
KWAEHYANG [Hansen – Vague Notion (Grand Lodge)] – He was 4th in the Munhwa Ilbo Trophy and 5th in the Breeders' Cup. He therefore has form to overturn on Nanometa and Naol Sniper, but he ran well for 2nd on his latest outing over this distance at class 4 level on February 11th.
Selections: (10) Naol Sniper (9) Raon The Quality (1) Nut Play (7) Giant Punch