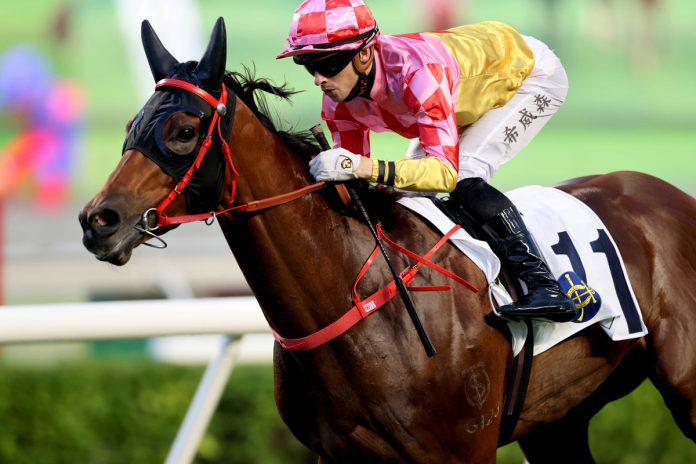 By Declan Schuster, HKJC
Lyle Hewitson is chasing an unlikely start in next month's LONGINES International Jockeys' Championship (IJC) at Happy Valley when he takes a full book of rides at the city circuit's midweek fixture tomorrow night (Wednesday, 23 November).
Positioned sixth this season along with Luke Ferraris, the pair's 10 wins have them in contention to unseat Matthew Chadwick (12 wins) for the final spot on the coveted 12-rider roster – which will be finalised after tomorrow night's programme – that already includes Zac Purton, Ryan Moore, James McDonald, Hollie Doyle, Jamie Kah, Tom Marquand, Yuga Kawada, Mickael Barzalona and Jye McNeil.
"I'll be out there and I'll be competitive – I'm happy with my book of rides. It's always hard to win three but I'm out there as always to give every mount a winning chance," Hewitson said.
The final three spots available are allocated to the leading homegrown rider (Vincent Ho) and the next two highest ranked jockeys on the local circuit, being Silvestre de Sousa (16 wins) and Chadwick, while Hewitson requires a three-timer to leapfrog the latter who has six rides on the card.
"It's handy to have (a full book of rides) and to be honest, for once, I've got some good draws. It's been a long time since I've had a full book of draws except for the meeting that was unfortunately cancelled," Hewitson said.
The affable 25-year-old from South Africa kicks off tomorrow night's fixture paired with Handsome Rebel for trainer Jamie Richards in the Class 4 Lam Tin Handicap (1000m).
"He's got a gate that will be suitable to him. I thought it would be worth getting down to that weight to ride him. He's doing well for his age – he's got some fresh legs at the moment and he looks like he's enjoying his racing," Hewitson said.
E Rainbow is coming to hand for trainer David Hayes and Hewitson will renew his partnership with the Australian-bred in the Class 4 Ngau Chi Wan Handicap (1200m).
"From last season he has matured a bit mentally, he's become a lot easier to work with and his start this season showed that," Hewitson said.
The four-year-old finished second first-up this term under Hewitson.
"1000 metres is too sharp but we had to get him off a starting point and he was only half a length off them out of the gates. He lacks a little bit of that speed but I liked the way he worked into the turn and he sustained the run to the line.
"Obviously he's going to be much more comfortable over six furlongs and with the run under his belt he should be good to go," Hewitson said.
Hewitson has done the majority of trackwork atop E Rainbow, partnering the gelding in each of his dirt course gallops ahead of tomorrow night.
"It's certainly a bonus (barrier three), he did have a few queries on his jumps last season (start of races) but I think he has improved in that respect, so as long as he jumps well and maintains a position then we should be a contender here," he said.
Jack Wong avoided injury last Sunday (20 November) at Sha Tin when he came off Highland Fortune in the penultimate race on the card and this week he heads to Happy Valley in search of a second win this term when he links with Faribault in the Lam Tin Handicap.
"I jumped out and the horse (Highland Fortune) just stumbled and then I lost balance and was falling off but I held on until the horses around me were past so that I had clear room to escape. Luckily nothing is broken and everything is intact, I'm ready for Wednesday's races," Wong said.
Wong has been in the plate for most of Faribault's trackwork and trials. Pierre Ng has applied blinkers for his first-up run tomorrow night.
"I really appreciate his (Pierre Ng) support, he tries his best to give me more horses to ride in races," Wong said. "We took our time with him because in the beginning he was laidback and his action was just ok but after a couple of trials he's kept on improving and I'm looking forward to this race."
Wednesday's (23 November) eight-race fixture at Happy Valley kicks off at 7.15pm with the Class 4 Lam Tin Handicap (1000m).