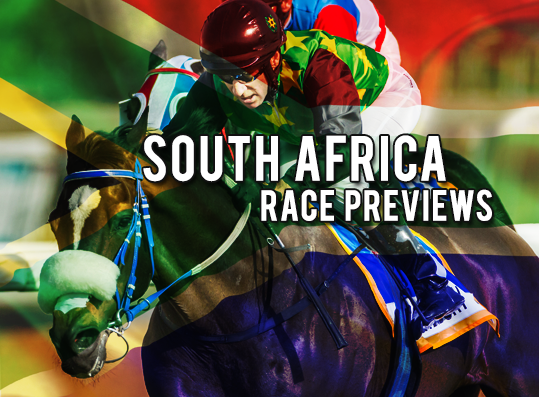 RACE BY RACE PREVIEWS: GREYVILLE POLYTRACK@2020.11.12
Greyville Polytrack, 12.11.2020, Race 1, Gallops, 1100m, Poly, R70.000, 12:20GMT+2
Race Summary: An intricate day's racing at Greyville on the Polytrack starts with a tough opener. While nothing stands out on form, TRENADORA does race for a stable that has been in good form, especially with their maidens. She has secured a decent draw and can only improve on her last run which was a learning experience on the poly. GONE PLATINUM showed little last time out but her debut was decent and she has been rested for just under four months. She could be a lot stronger now. BADRAH could be a big improver on the poly. She has shown good pace on the Highveld but along with LEADING LYRIC and GOOD GIRL has drawn wide. ROY'S SLEW PER JET met males last time out – watch out for first-timers as well.
Selections:
#3 Trenadora, #6 Gone Platinum, #12 Badrah, #7 Roy's Slew Per Jet
Greyville Polytrack, 12.11.2020, Race 2, Gallops, 1900m, Poly, R70.000, 12:55GMT+2
Race Summary: Could be a match between THEATRICAL MOMENT and CORSAGE. The former came from too far back when 0.40 lengths behind the latter last time out who also finished nicely. THEATRICAL MOMENT has the better draw, but Highveld filly CORSAGE will be ready now after needing that poly debut. MAMA PYJAMA is ready to win as well but she goes the longer trip and has not drawn well. Still, the longer trip could see her get going in time. FLYING THUNDER is capable but needs to behave in order to race well. SILVER BEAUTY, GIRL FROM IPANEMA and WALK ON BY need to be considered for exotics.
Selections:
#4 Theatrical Moment, #7 Corsage, #12 Mama Pyjama, #3 Flying Thunder
Greyville Polytrack, 12.11.2020, Race 3, Gallops, 1600m, Poly, R70.000, 13:30GMT+2
Race Summary: West Cape gelding DE GAULLE showed pace on debut, but still green had things go wrong last time out. He looks like he could relish on the Polytrack. TIME TAKER looks a big runner after two good races consecutively and he too needs to overcome inexperience. IBUTHO found just one better after trying blinkers and could make amends if he enjoys the longer distance. His rider knows him a lot better now. HELLO AGAIN was doing well until disappointing from the best draw last time. He could take advantage given that same gate again.
Selections:
#4 De Gaulle, #6 Time Taker, #9 Ibutho, #1 Hello Again
Greyville Polytrack, 12.11.2020, Race 4, Gallops, 1600m, Poly, R70.000, 14:05GMT+2
Race Summary: Trainer Glen Kotzen looks to have a strong hand with ROCK THE NIGHT and FREEDOM OF SPEECH. Both have run some good races in the Western Cape but ROCK THE NIGHT is the one with strong form and he could make a successful local debut if taking to the poly. FREEDOM OF SPEECH has had a decent local race on the turf here. MASTER TOBE will be looking to follow up on a hard-fought win and he has the best draw from which to launch an attack. GENTLEMAN'S WAY is very good on the poly but may need the run after a rest. MASTER OF DESTINY, SOVEREIGN SOLDIER and TEICHMAN can be included on latest form.
Selections:
#9 Rock The Night, #4 Freedom Of Speech, #1 Master Tobe, #2 Gentleman's Way
Greyville Polytrack, 12.11.2020, Race 5, Gallops, 1600m, Poly, R70.000, 14:41GMT+2
Race Summary: KAVIAN'S CARA put up an eye-catching display in a feature as a juvenile and beat a very decent sort the time before. She is obviously above average and the one to watch for more improvement after a rest. CHERRY ROAD and DIAMONDSANDPEARLS renew rivalry but the former has the better draw. However, do not take the latter lightly as she doesn't know how to run a bad race. RETAIL THERAPY is an interesting runner here. She has been running on strongly to win sprints and on pedigree could enjoy this longer trip as well.
Selections:
#6 Kavian's Cara, #2 Cherry Road, #8 Diamondsandpearls, #7 Retail Therapy
Greyville Polytrack, 12.11.2020, Race 6, Gallops, 1400m, Poly, R70.000, 15:15GMT+2
Race Summary: DUC D'ORANGE is one of the best around on the poly and his last two races on this surface are fine examples of his talent. He is weighted to add to his tally but has the widest draw. AFRICAN SUNRISE is finally back on the poly and rates a big danger. He has been knocking hard at the door and from a plum draw could fight hard to the end. GOLIATH HERON finally tries a bit of ground – he is bred for it – and he could suddenly be a contender come the business end. WILLIAMS LAND will relish it after racing over shorter – has a say.
Selections:
#9 Duc D'Orange, #2 African Sunrise, #7 Goliath Heron, #4 Williams Land
Greyville Polytrack, 12.11.2020, Race 7, Gallops, 1200m, Poly, R70.000, 15:50GMT+2
Race Summary: CERSEI is looking to complete a hat-trick and looks more than capable of accomplishing this feat. She enjoyed a fight last time out but has a bit more to do at the weights. There are also some young improving rivals in the race. One of them is PURPLE MERCHANT who won after a slow start – which is never easy. She has a plum draw this time and goes a trip which should suit better. VIHZOE'S MAGIC is also worth a look after a sustained finish to record a win on the fifth time out. FORT ROYAL met a strong field last time and is another serious runner for top honours. SARABI and COLOUR OF LIGHT need to find a bit more to win it.
Selections:
#6 Cersei, #2 Purple Merchant, #5 Fort Royal, #7 Vihzoe's Magic
Greyville Polytrack, 12.11.2020, Race 8, Gallops, 1200m, Poly, R70.000, 16:25GMT+2
Race Summary: Grade 2 Golden Slipper winner LOVE BOMB is back after running a cracker in the Grade 1 Thekwini. She should also relish being back on the poly and if ready after a rest rates the one to beat. STELLA ACT is decent as well and has some fair feature efforts behind her. On running style, she could relish racing on the poly surface. The same can be said of KEEP THE LIGHTS ON who is highly regarded and has a top rider and top draw. But it doesn't end there. DIVE CAPTAIN and DANCING FEATHER are strong older runners that have race fitness on their side.
Selections:
#8 Love Bomb, #3 Stella Act, #1 Keep The Lights On, #6 Dancing Feather
Greyville Polytrack, 12.11.2020, Race 9, Gallops, 1200m, Poly, R70.000, 17:00GMT+2
Race Summary: STAND BY ME can finally visit the winner's enclosure again if taking advantage of his number one gate. He has been giving signs of late and has done well on the poly previously. HAMMAM is knocking hard and he can score for the second time in his career as he looks well placed. JERRY THE JUGGLER was disappointing last time but has drawn a lot better and has run well after a break. ALPHAMIKEFOXTROT is another that must not be taken lightly. He is a poly specialist jumping from a very good gate.
Selections:
#1 Stand By Me, #7 Hammam, #5 Jerry The Juggler, #2 Alphamikefoxtrot
Best Win: #9 DUC D'ORANGE
Best Value Bet: #1 STAND BY ME
Best Longshot: #1 STAND BY ME