By Declan Schuster, HKJC
Caspar Fownes' fast start to the 2020/21 season continued as the three-time champion trainer bagged a treble at Happy Valley on Wednesday, 16 September to put him four wins clear at the top of the trainers' premiership after four meetings.
"I'm going to be a chance (for the championship) that's for sure, I've done it three times before so I feel I've got the horses to give me a chance and certainly go out there and give it a big shake," Fownes said.
The handler has charged out of the blocks with seven wins already, bagging this evening's three fresh off a Sunday double at Sha Tin which included the win of the up-and-coming four-year-old Sky Field.
"I'm very happy – they're racing well and we've got something to work with," Fownes said. "We have a nice team spread across the classes so we give ourselves a chance to get a few winners here and there and see how long we can maintain it.
"The plan was put the foot down and have a go and see if we can put pressure on the big boys and make my presence felt."
Dubbed the 'King of the Valley', Fownes' fruitful night kicked off with Shamport securing the Class 3 Hang Hau Handicap (1200m) under Joao Moreira, who sealed a treble of his own. It was the Brazilian ace's first three-win haul at Happy Valley since 25 September, 2019, which he also commenced with victory aboard Shamport.
"He's been racing really well – he deserves that. He's one of those typical horses who came here and took a season and a bit to adapt to the environment and toughen up, they all go through their little aches and pains but hopefully now he's sort of over it," Fownes said.
The six-year-old arrived from Australia as a metropolitan winner at Caulfield, claiming the AU$150,000 (approx. HK$850,000) VOBIS Gold Ingot (1400m) at his second start before import.
"He's won four already, he won three last year and the way he's won tonight you'd expect him to hopefully win one more, he's done his job and hopefully he can continue to snag one more for the stable," the 53-year-old trainer said.
"I'm very happy for my owner Peter Law and his daughter Winnie, very happy for them to get the results."
Fownes' double was sealed thanks to a well-judged front-running ride from Matthew Chadwick aboard Lightning Steed in the Class 3 Lei Yue Mun Handicap (1650m).
Lightning Steed makes all for Matthew Chadwick to give Caspar Fownes a double! ✌️ #HKracing pic.twitter.com/efHT3cZ5H7

— HKJC Racing (@HKJC_Racing) September 16, 2020
"We just couldn't get him where we wanted him last week, he still ran well but normally he likes to dictate and that's where he seems to be at his best, and I just felt the quick back-up would suit," Fownes said.
The California Dane gelding broke cleanly from gate one and Chadwick used that advantage to take up the running.
"I got an easy time of it up front and he did what he had to do – he's come back well. I was unlucky not to win on him last season but he's come back nice and fresh, he needed that run last week," Chadwick said.
Fownes was pleased with Chadwick's execution of the plan to make all.
"I said to Matt, 'just get out and control it, make sure you show them you want to lead because there might be someone who might want to give you a bit of pressure,' but he got good sectionals up in front. I thought he was going to be hard to beat once he reeled off that 28.7 first quarter and nearly 24 for the next bit, especially coming off the run last week."
It became three wins for both Fownes and Moreira when Green Aeon swept to victory in the finale, the Class 3 Cha Kwo Ling Handicap (1000m).
? 'King of the Valley' ?

Caspar Fownes claims a treble as Green Aeon takes the finale, also sealing three wins for Joao Moreira (@cavaleiro83). ? #HKracing pic.twitter.com/xuw2lWhj0B

— HKJC Racing (@HKJC_Racing) September 16, 2020
"It's really nice to see him do that – I have a very high opinion of him," Fownes said of the Snitzel gelding, who broke cleanly from gate three before waywardly charging down the outside to score.
"I'm very happy," Moreira said. "He seems very straightforward, only good horses win second-up in Hong Kong, he beat some very fast horses in the field, he's shown to beat quite skillful, he was made for the job."
Tonight's treble moved Fownes to within five of 900 Hong Kong wins.
Teetan doubles up
Karis Teetan kept on rolling with a double, to take his seasonal total to eight wins, equal at the top of the jockeys' premiership with Moreira and reigning champion, Zac Purton.
"It's good to have a good start like this, I've been working hard each and every season trying to improve myself," Teetan said. "I've been lucky enough to hook myself with good stables: Tony (Cruz) has been good to me and Douglas (Whyte) this season, as well as the other trainers – they are supporting me strongly all the time."
With 93 wins last season, Teetan is on track for an even more fruitful campaign if he can keep up this kind of form. After the opening four meetings last season, the 'Mauritian Magician' sat on just two wins.
"Before, if I was riding a horse, I used to have a 60 – 70% chance of losing the ride on the horse if he ran second but now I have an 80% chance I can keep it – it does help. I have been here for a while now but the only thing I want to do is go out there and ride winners," Teetan said.
Teetan's double began aboard Hong Kong International Sale graduate All You Know in the opener, the Class 4 Tiu Keng Leng Handicap (1650m) for trainer Richard Gibson, who dedicated the victory to nine-time Irish champion jockey Patrick Smullen, who passed away the day before, having been diagnosed with Pancreatic Cancer in March 2018, and who rode in Hong Kong on numerous occasions.
"I'm wearing a black tie tonight in respect of Mr. Patrick Smullen who died and I think it's very important that the Hong Kong community recognises his brilliance as a jockey and his brilliance as a man. I was very lucky that he rode for me here in Hong Kong, so my thoughts are with him and his family tonight," Gibson said.
Teetan's brace was sealed when Supreme Plus finished best in the first section of the Class 4 Po Lam Handicap (1200m), securing Frankie Lor a first win of the season.
Supreme Plus sweeps to victory, securing a double for the 'Mauritian Magician' @KarisTeetan! #HKracing pic.twitter.com/WLugMvVH0O

— HKJC Racing (@HKJC_Racing) September 16, 2020
"I used to ride him when he first got to Hong Kong and thanks to Frankie (Lor) he gave me the ride on entry day. I had a look at the race and of course Sell My Sole was the horse to beat; I said to Frankie (Lor) I want to try and stay off the rail and try stay next to him and get the first run on him with no weight," Teetan said.
"He won a good race last time in Class 5 but I thought this time with the right run he would have a good chance."
Meanwhile, Purton was on the mark aboard the Dennis Yip-trained Hercules in section two of the Class 4 Po Lam Handicap (1200m).
Hong Kong's champion jockey @zpurton gets on the board as Hercules breaks through for Dennis Yip! ? #HKracing pic.twitter.com/LX8khDMD2C

— HKJC Racing (@HKJC_Racing) September 16, 2020
Chad Schofield bagged his second win this season when Apollos Bow went from gate-to-post in the Class 5 Tseung Kwan O Handicap (1200m) for trainer Me Tsui.
Trainer Manfred Man secured his first win for the campaign with Moreira's mount V Chevaliers in the Class 5 Yau Tong Handicap (1650m).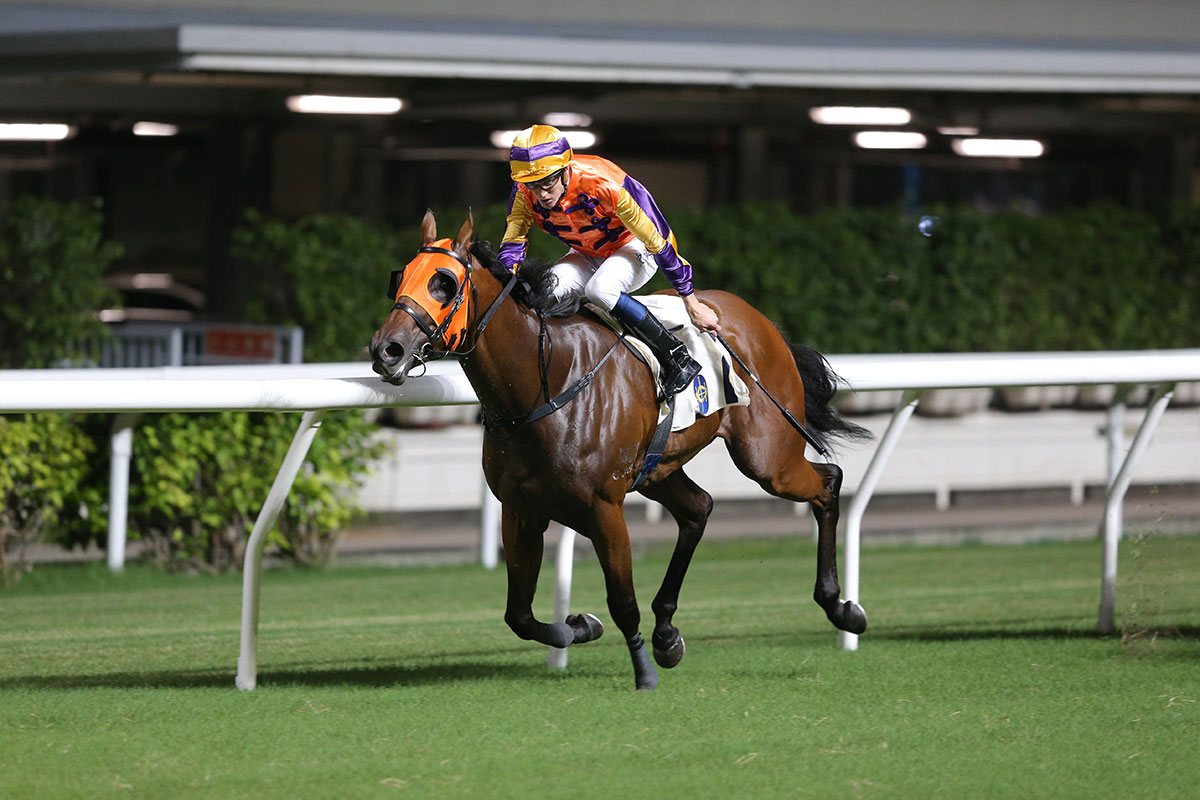 "I'm very happy," Man said. "Before, he just hurt his foot so the vet and blacksmith took care of him, but after this race he will be promoted to Class 4, so we'll give him some time but hopefully he can be competitive again."
A well-judged front-running ride from @SchofieldChad gets Apollo's Bow home in the third race. ? #HKracing pic.twitter.com/IQItyTAfCV

— HKJC Racing (@HKJC_Racing) September 16, 2020
Hong Kong racing continues on Sunday, 20 September at Sha Tin.