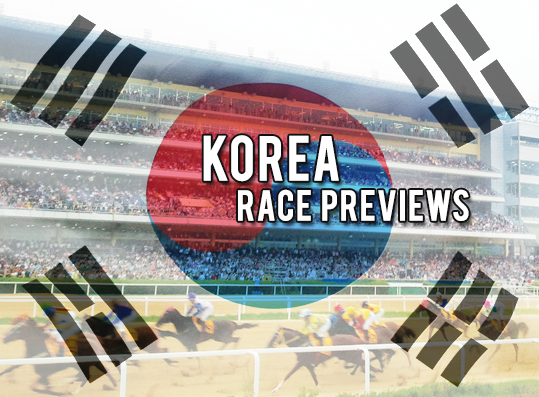 KOREA: Busan Racecourse – Friday January 17, 2020
Race 4: Class 6 (1600M) Allowance / KRW 40 Million
Three-year-old maidens here with all but two of the nine stretching out to a mile for the very first time. One of those two, (5) B.K. EUAN is set to be the top pick. The Alternation gelding has tackled this distance twice already and only came up short by a nose on his latest outing on December 29th. If anything, that was a stronger race than this and from gate 5 he will be expected to lead from the start and this time to not get caught. (7) POWER TRAIN has shown promise over three starts so far with the only problem being that by the time he's hit his stride the race has been over. He should appreciate the step up to a mile today and can run on strongly. (8) MR. VALOR is another who looks like he will appreciate a bit of distance. He didn't do much on debut but ran well for a close 4th three weeks ago and should be a contender here. (2) TOP SKY hasn't done an awful lot on two starts so far but he's another who tries the mile for the first time and the Kim Young-kwan/Seo Seung-un combination will tempt plenty. (9) ADELE CLASSIC was able to do very little from gate 14 last start but despite being drawn the widest again, should be able to get a prominent early position here and hold on for some prize money.
Selections: (5) B.K. Euan (7) Power Train (8) Mr. Valor (2) Top Sky
Next Best: 9, 1
Fast Start: 5, 9
Race 5: Class 6 (1600M) Allowance / KRW 25 Million
There doesn't appear to be any superstars in the making in this fifth as a field of twelve will go over the mile. (2) LATINUIHYANGGI looks a main chance after running second at her second start last time out. The filly hit the racing scene as a three-year-old last year when finishing midfield on debut. She then improved last start to finish second albeit beaten fifteen lengths by Blue Power. Quite a few of these runners come out of that race where she held them off safely. (11) GIANT'S HEART showed significant improvement last time out when finishing third to Ultra Phoenix. The chestnut will step up to the mile for the first time where his previous starts indicate he should run it out okay. (4) THE SUN OF GOD is yet to place at his six career starts to date but has ran fair times at his past two starts. This assignment looks an easier take and he can run into some money. (5) GOLDEN RAIN was well beaten last start when sixth behind Monopoly in a slightly stronger race. There will need to be some improvement as he struggled to run the mile out strongly last start.
Selections (2) Latinuihyanggi (11) Giant's Heart (4) The Sun Of God (5) Golden Rain
Next Best 10, 4
Fast Start 5
Race 6: Class 5 (1600M) Allowance / KRW 40 Million
It took (4) BLUE POWER five goes to get his maiden win but when he managed it, he did it in style, running out a fifteen-length winner on his first try at a mile on December 6th. He found things less easy on his first try at this class two weeks ago when 4th to the very good Golden Winner from a wide draw. This time he should be able to challenge for the lead from the start and he can return to winning ways. This is a really good race though as evidence by the likelihood that two horses up in class after good last start wins, (1) BORNE MATTA and (12) TOP BEST, aren't set to be among the favourites. Instead (10) QUEEN UP looks the most credible challenger, having run 2nd at class and distance three weeks ago in a solidly run race. She too should be on the early speed. (5) WONDERFUL SUPAH has a win and a runner-up finish in two attempts at a mile so far, beating three of these in the most recent of those. That was back in October so he comes in fresh here and should be challenging for at least a place. Returning from an even lengthier spell out is (6) NUMBER ONE STAR, who last raced in August. He did though win a trial in fine style just last week so as long as he didn't leave his race back there, he can go well first up today.
Selections: (4) Blue Power (10) Queen Up (12) Top Best (6) Number One Star
Next Best: 5, 1, 3
Fast Start: 3, 4, 10, 12
Race 7: Class 5 (1000M) Handicap / KRW 40 Million
The seventh on the card will see a field of twelve fly over the five furlongs. It's fair to say (11) COPY THAT was unwanted last start when returning triple figure odds, breaking maiden status on debut. Stallion Thunder Moccasin continues to produce winners on the Korean sand and Copy That was one that did everything right on debut. Peter Wolsley has elected to claim with Jeong Woo-Ju to be legged aboard the three-year-old for his second start. He should work forward from the awkward draw and sit in the first three. (4) FUNKY was good last start when running a good time for the 1000m. All races were run particularly fast on that day but he made up good ground in a race that had similar depth to this race. (12) MIRACLE DREAMING is drawn outside of Copy That and it is likely they will cross the field together early on. Connections have elected to drop the three-year-old back to the 1000m after breaking maiden status last start over the 1300m. Kim Tae-Hun will take over riding responsibilities on the gelding. (10) PULL OFF was fair last start when leading and getting run down late. He is another that can jump and run, he looks one that can pick up a Class 5 eventually.
Selections (11) Copy That (4) Funky (12) Miracle Dreaming (10) Pull Off
Next Best 3, 6
Fast Start 3, 7, 11, 12
Race 8: Class 4 (1000M) Handicap / KRW 60 Million
Fillies and mares on for this handicap over the minimum distance. A winner of three from five so far, all of them at this trip, (8) CHOEGANG TOUCH comes in having beaten a couple of these on her way to a very nice win in a fast time on December 29th at class and distance. She made all and while his main rivals today are on her inside and he is carrying an additional 4.5kg, she can get to the front again and she can win again. One of few horses to have beaten Choegang Touch so far is (2) SECRET LEGACY. She got the better of her by half a length when winning at this distance on December 1st. She's only raced once since then when she ran 4th in a good race over 1200M and she is set to be the primary danger here. (1) HAPPY AGAIN and (4) KAHEKILI traded wins when racing against one another in November and December. Both should be in the placing hunt here although Kahekili did run again three weeks ago and was comfortably beaten by Choegang Touch. (5) ADELE SPIKE, up in class following a good win over 1300M two weeks ago, looks best of the rest.
Selections: (8) Choegang Touch (2) Secret Legacy (1) Happy Again (4) Kahekili
Next Best: 4, 3
Fast Start: 2, 4, 5, 8
Race 9: Class 4 (1300M) Allowance / KRW 75 Million
A field of inexperienced US imports will face the starter in the ninth. There was a lot to like about the trial of (10) WORLD TOP when qualifying. The three-year-old was in cruise control up the Busan straight when winning the trial, clocking 62.4 seconds. He looked to have plenty left in the tank, he was given one strike with the whip to keep his mind on the job but apart from that the horse looked to do it on his ear. It will be interesting to see him fully extended. (7) CHEAT KEY looks the main danger and is likely to start favourite after finishing second to Nice Chance at his second start. The colt was ran down in the final stages last time out over this distance and with some improvement, he will take some beating. (9) DIAMOND MARINE ran on well at his second start last time out. He looks one that will appreciate being stretched out to the 1300m. He is likely to map rearwards with the wide draw and lack of early speed shown last start. (5) WORLD CHICAGO handed in a good trial performance when qualifying to race. The Kim Young-Kwan trained galloper clocked a reasonable time and will be aided by a reasonable draw.
Selections (10) World Top (7) Cheat Key (9) Diamond Marine (5) World Chicago
Next Best 8, 1
Fast Start 7, 8, 12
Race 10: Class 5 (1300M) Handicap / KRW 40 Million
Really wide-open handicap here but the manner in which (5) THUNDER KING shed his maiden tag on December 13th, making all for a nine-length score in a fast time over this distance, suggests he should get the nod here as well. He previously as only beaten a length by Touch Star Man, who was a very easy winner at a higher level last week and this looks his to lose. (3) JEONSEOLUI PUNCH is still looking for his maiden win having come up short when favourite a couple of times. He tackles 1300M for the first time since his debut last autumn and it may well be good for him. He'll join Thunder King on the early pace as will (6) ULTRA PHOENIX, who was a surprise winner over this distance on December 29th and is accordingly up in class today. (4) MAJOR POWER and (10) TOWER CAPTAIN both have plenty of experience at this level and both should be aiming to at least place.
Selections: (5) Thunder King (3) Jeonseolui Punch (6) Ultra Phoenix (10) Tower Captain
Next Best: 4, 7
Fast Start: 3, 5, 6
Race 11: Class 4 (1600M) Allowance / KRW 60 Million
There looks an abundance of speed engaged in the eleventh on the card. (9) YEONGGWANGUI FIGHT brings some strong form lines into the race. The Thomas Gillespie trained four-year-old is a class and distance winner and comes off a runner up performance back in November. He went down the narrowest of margins last start and get in with the same weight as last start. With a slight freshen-up expect Choi Si-Dae to let him pounce out of the gates and work forward. There was a lot to like about the win of (2) STAR OREUM last start. The Menifee colt will be stretched out to the mile for the first time after running some nice races in the two-year-old features in the second half of last year. He was a seven length winner last time out in this class and as a result will have to carry 56.5kg in this assignment. (8) QUICK MOVE is a class and distance winner last start. The mare last races on the 1st December when sitting prominent before proving too strong in the final stages. She carried the featherweight of 51kg last start and goes up 3kg for this race. She is looking for her fourth win at start ten. (1) BRIAN PARK placed at odds when resuming last time out. It was his first run for over six months when coming form well back and finishing third. Expect improvement from the five-year-old but he will have to lump the top weight of 57kg.
Selections (9) Yeonggwangui Fight (2) Star Oreum (8) Quick Move (1) Brian Park
Next Best 6, 10
Fast Start 2, 6, 8, 9
Race 12: Class 2 (1800M) Allowance / KRW 90 Million
Really good race to finish with involving two of last year's Classic winners – and it says something about how strong the race is that neither Minister's Cup winner (4) ROCK CHOICE nor Oaks winner (5) DEEP MIND are likely to be anywhere near favourite. Six of these raced each other at class and distance on December 29th and 17/1 chance (9) DUBAI TEUKGEUP was the somewhat surprising winner, having led from gate to wire. He only carries an additional 1kg today and a repeat isn't impossible but it would be a big surprise were he to get things all his own way again. Instead (3) MR. AFLEET, who was less than a length back in 3rd that day, can come out on top. A class act who has won five of his eight races so far, he can settle behind the early speed again and this time make no mistake late on. Another potential class act is (6) YEONGSEONGFIGHTING. He's up in class having registered his fourth win on his eighth start with a five-length score in a very fast time over a mile. It's his first try at 1800M as well but he has a chance. (2) ALPHAKING IJI ran 5th behind Dubai Teukgeup and Mr. Afleet in that race three weeks ago. He was first up that day after six months off and should have come on for the run.
Selections: (3) Mr. Afleet (6) Yeongseongfighting (9) Dubai Teukgeup (2) Alphaking Iji
Next Best: 4, 5, 1
Fast Start: 1, 3, 6, 8