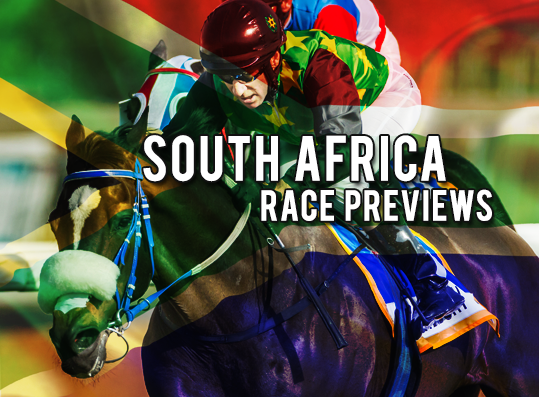 RACE BY RACE PREVIEWS: KENILWORTH@2019.11.16
Kenilworth, 16.11.2019, Race 1, Gallops, 1200m, Turf, R70.000, 13:15GMT+2
Race Summary: Good maiden. ACADEMIC GOLD and AMERICAN PRAYER are likely to improve after a recent meeting and there shouldn't be much between the pair. KZN raider TWO FOR TEA started a short-priced favourite on debut so must have ability andcould play a role. ON CAPTAIN'S SIDE, QUEEN OF QUIET, FESTIVE GIRL and FORGET O' GIRLS can also feature if improving. Respect newcomer SING OUT LOUD.
"金学士"
"美国门徒"
"悠闲午茶"
"队长团队"
"恬静女王"
"节庆女孩"
"女生日记"
"大声唱"
Selections:
#5 Academic Gold, #6 American Prayer, #10 Sing Out Loud, #11 Two For Tea
Kenilworth, 16.11.2019, Race 2, Gallops, 1400m, Turf, R70.000, 13:45GMT+2
Race Summary: TURN IT UP HARVEY has filled the runner-up berth twice this term behind two  smart prospects, so wouldn't be winning out of turn. NAUGHTY BOY should pose a threat if building on an improved last start but riding arrangements suggest recently gelded stable companion TILLIEANGUS is the pick from the Snaith yard. Watch the betting on well-bred Silvano newcomer WARRIOR BLING.
"强悍哈维"
"小坏蛋"
"缇利安古"
"闪亮战士"
Selections:
#1 Turn It Up Harvey, #8 Tillieangus, #9 Warrior Bling, #6 Naughty Boy
Kenilworth, 16.11.2019, Race 3, Gallops, 1400m, Turf, R70.000, 14:15GMT+2
Race Summary: JOY MAISHA is going the right way and will be competitive if making further  progress. ISLE OF WIGHT showed signs inexperience on debut but would have come on since and can make her presence felt. REEF KNOT and POSSIBILITY can get a look in if building on improved recent efforts. PROCLAIMER and SNOWDROPS should also improve this trip. Watch well-related newcomer CAPE TO RIO
"麦莎"
"维和岛"
"结义"
"无限可能"
"保护令"
"雪花莲"
"利欧战车"
Selections:
#1 Joy Maisha, #9 Isle Of Wight, #7 Cape To Rio, #3 Reef Knot
Kenilworth, 16.11.2019, Race 4, Gallops, 1000m, Turf, R90.000, 14:55GMT+2
Race Summary: DRIVING MISS DAISY has ability but is probably better over further, while highly regarded GENERAL FRANCO reverts to the trip of his debut success and may be worth another chance. It could, however, pay to follow the Golden Tractor form when 2,3 lengths separated BELLINGHAM BAY, DRAGON POWER, CONSTABLE and APOLLO ACE. There's little to choose between that quartet on these terms.
"黛西车手"
"弗朗克"
"贝岭汉"
"龙势"
"警官"
"波罗皇牌"
Selections:
#6 Bellingham Bay, #5 Constable, #4 Dragon Power, #2 General Franco
Kenilworth, 16.11.2019, Race 5, Gallops, 1800m, Turf, R65.000, 15:30GMT+2
Race Summary: Good race and one which the improving 3yo brigade could dominate. RILLE was backed to win a stronger contest over further last time but lacked extra late so could have more to offer over this trip. HONEY PIE has solid post-maiden form and should have a role to play once more. However, it could pay to follow the progress of well-bred maiden winners DYNASTIC LIGHT and FYNBOS.
"莱尔"
"蜜糖派"
"皇光"
"芬波斯"
Selections:
#1 Dynastic Light, #7 Fynbos, #5 Honey Pie, #2 Rille
Kenilworth, 16.11.2019, Race 6, Gallops, 1600m, Turf, R95.000, 16:05GMT+2
Race Summary: Good race. Progressive SLEEPING SINGLE and consistent SECRET DEPTHS have a score to settle. They're closely matched on form and there is little between them on these terms. Both will be competitive, so too should WATER SPIRIT who wasn't far off that pair over this trip two starts ago. LARENTINA ran on well in a 1400m Gr2 last time and should have more to offer going this trip
"睡公主"
"深渊"
"水灵"
"拉伦蒂娜"
Selections:
#6 Larentina, #4 Sleeping Single, #7 Secret Depths, #8 Water Spirit
Kenilworth, 16.11.2019, Race 7, Gallops, 1400m, Turf, R77.500, 16:43GMT+2
Race Summary: Well-bred BAYBERRY has been rested since shedding his maiden tag but ought to have strengthened and improved during his layoff – follow. Jockey Corne Orffer rode promising COUNT JACK to victory last time but now rides PARTERRE (needed last run), which suggests the latter is preferred of the Crawford-trained coupling. ASHBURY PARK (blinkers on now) and QUINTAY must be respected.
"贝芭莉"
"杰克公爵"
"帕蒂尔"
"艾斯布利"
"奎因泰"
Selections:
#6 Bayberry, #2 Parterre, #7 Count Jack, #11 Ashbury Park
Kenilworth, 16.11.2019, Race 8, Gallops, 1400m, Turf, R72.500, 17:20GMT+2
Race Summary: Open. Improving 3yo's QUEEN'S CLUB and KATHLEEN made all when winning last time and are likely to ensure an honest pace under galloping weights. BINDI is quick but must prove she stays the trip. CRUISE ALONG will appreciate a pace to aim at and could turn the tables on MIDNIGHT MOONLIGHT but ROCKET GIRL, who was behind that duo last time, may have their measure on these terms.
Selections:
#6 Rocket Girl, #2 Cruise Along, #4 Midnight Moonlight, #10 Queen's Club
Best Win: #6 LARENTINA
Best Value Bet:
Best Longshot: #6 ROCKET GIRL