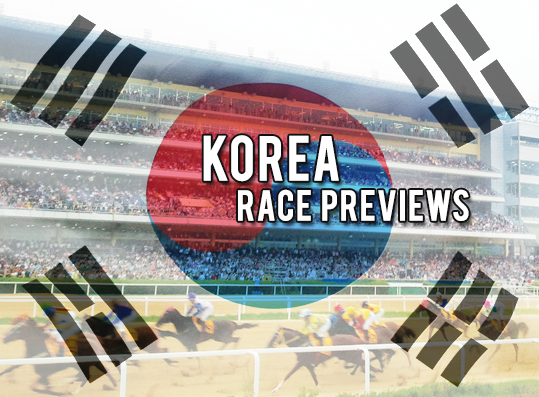 KOREA: Sunday October 27, 2019
Seoul Race 5: Class 4 (1300M) handicap / KRW 60 Million
(8) SPEEDOM was an emphatic five-length winner on debut over 1000M on September 21st. He's up in distance today but looks to have plenty more in him and he can make it two from two today. (3) CHEMI BLUE remains a maiden after thirteen attempts but comes in having finished as runner-up in each of his latest three, just beaten a nose last time. He'll be on pace from the start and today looks as good a chance as any he has had so far. (4) MUNHAK REWARD showed some progress on what was his second start a month ago, running 3rd and can build on that today. (5) EOMAMUSI was a good maiden winner last start and should be competitive. (9) SOULY MAJESTIC looked sharp when winning a trial last week and is the wildcard.
| | |
| --- | --- |
| | (8) Speedom (3) Chemi Blue (4) Munhak Reward (5) Eomamusi |
| | |
| | |
Busan Race 2: Class 5 (1300M) Handicap / KRW 40 Million
Having debuted last November, it wasn't until September 27ththat (11) YEONGSEONG HOPE finally returned to the track. It was a winning return though, as he scored by three-lengths over 1000M. He's up in class and distance today but should be equal to both and is favoured to win again. (4) AMOR FATI got his maiden win at the fourth time of asking a month ago. It was at this distance and he made all. He'll try to get to the lead right away today and looks the main danger. (8) NAEGA SAEGANGJA enters with recent form reading well and should be challenging for a place, as should (3) DONE IT MY, who may be a twenty-nine-race maiden but is capable of finding the money in this type of company. (9) GIDAEHAE another in the hunt.
| | |
| --- | --- |
| | (11) Yeongseong Hope (4) Amor Fati (3) Done It My (8) Naega Saegangja |
| | |
| | |
Seoul Race 6: Class 5 (1700M) Allowance / KRW 40 Million
Tricky race but (4) HWANGGEUM DOYAJI looks the pick. She may only have been 5th last start but she was only half a length off 4th and ran on strongly. Today marks her firs try at 1700M and it may well suit. (3) CITY CHAMP is still a maiden after twenty-six starts but comes in having raced well lately with a 3rd and a 2nd from his most recent two, both at this distance. He should be placing again. (6) INDIAN BOSS and (1) CHEONJI MYEONGJANG came home 3rd and 4threspectively when they raced each other over 1300M on September 29th and both should be aiming for some money here. (11) CHOEGANG SINGI, up in class today, looks best of the rest.
| | |
| --- | --- |
| | (4) Hwanggeum Doyaji (3) City Champ (11) Choegang Singi (6) Indian Boss |
| | |
| | |
Busan Race 3: Class 4 (1300M) Handicap / KRW 60 Million
(6) WONDERFUL COUNTRY ran out a good class and distance winner just two weeks ago. As a result, he carries an additional 4.5kg today but if anything, the competition is not as strong as it was that day and another win is possible. (5) DAEHO JILJU enters in similarly good form with a win and runner=up finish from his latest two and should be a threat while (3) YEONGGWANGUI CHEER is better than his latest couple of outings suggest and back in trip today, can get closer. There are two wildcards. Both (1) SPEED FURY and (7) TANGENT are returning from lengthy spells on the sidelines and both looked well in trials.
| | |
| --- | --- |
| | (6) Wonderful Country (5) Daeho Jilju (1) Speed Fury (7) Tangent |
| | |
| | |
Seoul Race 7: Class 3 (1700M) Handicap / KRW 75 Million
(3) VICAR BRACING enters having completed a hat-trick of victories in his last three starts, the most recent of which was at class and distance and four in a row is not impossible here. That said, this field is at the stronger end of class 3. (8) WONDERFUL EVIL ran 2nd over 1900M last time. He comes in off nine-weeks rest and should be dangerous. (9) JEWANGUI BYEOL never really got going over 1400M a month ago but back up to two turns can get closer. (11) RAON SERENA enters off back to back runner-up finishes in good company and looks good for another place. There are a couple up in class and of those, (6) LIVINGSTONE looks the more competitive.
| | |
| --- | --- |
| | (3) Vicar Bracing (8) Wonderful Evil (9) Jewangui Byeol (11) Raon Serena |
| | |
| | |
Busan Race 4: Class 3 (1400M) Handicap / KRW 75 Million
Since returning from five months out, (5) GOOD DANCER is two for two and is up in class after a handy score over 1200M last start. He hasn't won at this distance before but has acquitted himself well and he has solid claims again today. (7) YEONGCHEON HERO is a winner at this class already and can come from off the pace with a strong run here while (8) YEONGGWANGUI FORCE enters off the back of a good class and distance 3rd having led for much of the race and with a good start, should be dangerous again. (1) OHO DAEJANGGUN is up in class after a win at this distance on a wet track a month ago and can also be competitive.
| | |
| --- | --- |
| | (5) Good Dancer (7) Yeongcheon Hero (8) Yeonggwangui Force (1) Oho Daejanggun |
| | |
| | |
Seoul Race 8: Class 2 (1800M) Allowance / KRW 90 Million
It took (1) TOP BRAIN a while to figure things out and to get a string of runs under his belt. That string of runs has become a strong of wins and he's up in class after scoring on three consecutive occasions.  He tackles two turns for the first time as well, having won at a mile last month but he has plenty of ability and could win again. (6) THUNDER BLADE may start as favourite though. A winner at this class over a mile, he ran 3rd over this distance on September 29th and looks class 1 bound sooner rather than later. Another danger is (8) DORAON ACHIM HAE. He returned from nine-months off to win comfortable in a fast time over 1400M in September at this class. He should have come on for that run and looks ready to tackle two turns for the first time. (2) CHOINMA hasn't won for ages but always runs in good company and is rarely far away. He'll be competing at the business end here. (7) HEUK JEONSA ran 2nd to Top Brain last start and joins him up in class.
| | |
| --- | --- |
| | (1) Top Brain (6) Thunder Blade (8) Doraon Achim Hae (2) Choinma |
| | |
| | |
Busan Race 5: Class Open (1200M) Allowance "Breeders' Cup Trial: (L) (2yo only) / KRW 300 Million
Busan's second leg of the Juvenile Series and while (11) SAVE THE WORLD has drawn he widest gate, he will start the red-hot favourite to win again. He's beaten the majority of these already and was too good when scoring by six-lengths in the Gold Circle Trophy. He can take his time getting to the front and should be too good. (4) DONGTEUJA DAY was beaten by Save The World on debut back in July but has gone on to win two starts since in emphatic fashion. He still has plenty to find but looks to be the main danger here. (6) DOCTOR CARSON ran a distance 2nd to Save The World in August but also looks to be a progressive type with improvement in him. (2) TOP DAY was 3rd in that August race and while he came up short when favourite against older horses last time, can be given another chance here. The unbeaten but unexposed (10) RAON YEOGEOL another who could be interesting.
| | |
| --- | --- |
| | (11) Save The World (4) Dongteuja Day (6) Doctor Carson (10) Raon Yeogeol |
| | |
| | |
Seoul Race 9: Class Open (1200M) "Nonghyup Chairman's Trophy" (L) (2yo only) / KRW 300 Million
Seoul's Juvenile Series second leg. (1) ROLLER BLADE and (4) CHOEGANG TEAM have exchanged victories so far, Choegang Team winning a Sales-Grad race in August before Roller Blade returned the favour in the Munhwa Ilbo Cup, the Juvenile Series 1st leg last month. Choegang Team always found himself a little bit wide that day but this time, while drawn outside of Roller Blade once more, he may be able to just take a sit behind his rival before launching a challenge in the home straight. It could go either way. (2) K N ROAD was eight lengths behind that pair in the Munhwa Ilbo but still looks the most likely to get clsoest to them here. Newcomers to the Series in the shape of (8) LEGEND STORM, (9) TAKTUEIN and (10) CHOIN GANGJA are others to watch out for.
| | |
| --- | --- |
| | (4) Choegang Team (1) Roller Blade (10) Choin Gangja (9) Taktuein |
| | |
| | |
Busan Race 6: Class 2 (1800M) Allowance / KRW 90 Million
(10) MR. AFLEET is a winner of four from six so far and while he was unexpectedly beaten a head on a wet track last start, he really should be bouncing back to winning ways here. (2) SMART PRINCE also comes in off the back of a useful 2nd in a fast race at class and distance last month, beating three of these in the process and he looks to be the most credible threat despite his inconsistency. (6) MAKING SEUNGNI was a last start winner at this class over a mile and while he carries an extra 5kg today, should be a danger too. (1) DUBAI TEUKGEUP is another inconsistent one but goes well on his day while (9) YES POWER comes in off two good showings around 1400M and looks best of the rest.
| | |
| --- | --- |
| | (10) Mr. Afleet (2) Smart Prince (6) Making Seungni (9) Yes Power |
| | |
| | |
Seoul Race 10: Class 4 (1300M) Handicap / KRW 60 Million
(8) SUN OF THUNDER was a class and distance winner in July and while he only managed 4th on his reappearance at the end of last month, that was a strong race. He should be on pace here and can return to the winner's circle. (11) HAWK HAENGJINGOK and (12) VICTORY KING both come in off positive recent form and look to be two of the main dangers here. Neither needs to lead so the wide draws shouldn't be a problem. (4) STRONG VULTURE had a poor day at the office last start but is better than that and can be given another chance here. (5) GANGHWA CHONGGAK is best of the rest.
| | |
| --- | --- |
| | (8) Sun Of Thunder (11) Hawk Haengjinggok (4) Strong Vulture (12) Victory King |
| | |
| | |
Seoul Race 11: Class 1 (1400M) Handicap / KRW 110 Million
(12) GLOBAL CAPTAIN was last seen running 7th behind Blue Chipper in September's Korea Sprint. He returns to the comparably shallower waters of Class 1 today and will be expected to add to his tally of six wins from nine starts. (4) EAST PALOS is a class and distance winner and comes in having run a close 3rd in a fast race over 1200M earlier this month and will be a danger. (3) HAVANA CHARLIE hasn't quite managed to kick on after a promising start to his career but steps back in trip here to come into contention. (8) SANGGAM MAMA is the track record holder and can never be completely ruled out – he races for the first time since winning at class and distance in July. (11) GASOKBULPAE another who is very capable if things go his way.
| | |
| --- | --- |
| | (12) Global Captain (4) East Palos (3) Havana Charlie (8) Sanggam Mama |
| | |
| | |