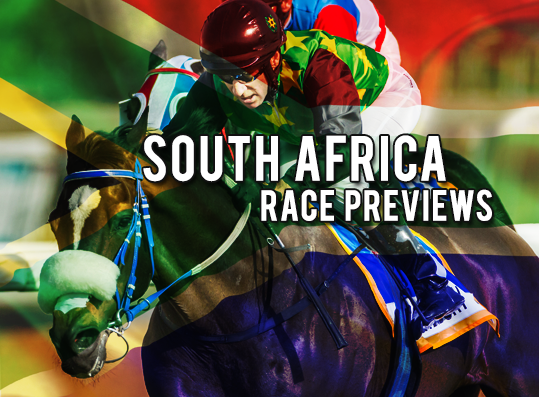 RACE BY RACE PREVIEWS: KENILWORTH@2019.10.26
Kenilworth, 26.10.2019, Race 1, Gallops, 1000m, Turf, R80.000, 12:50GMT+2
Race Summary: A tricky work riders' event to kickstart a smashing card. Both NEVIL MU and HOPE AND PRAY ran well up the straight at this track on debut and will be competitive if reproducing that form. CYBER BLOSSOM is good enough to play a role but has become costly to follow. WINTER ASSEMBLY is unexposed and could  pose a threat if making improvement with blinkers now fitted.
Selections:
#2 Nevil Mu, #6 Hope And Pray, #7 Cyber Blossom, #1 Winter Assembly
Kenilworth, 26.10.2019, Race 2, Gallops, 1400m, Turf, R80.000, 13:25GMT+2
Race Summary: Well-related GOLDEN DUCAT caught the eye on debut and will be hard to beat if building on the promise of that run over this trip. TAMBORA is also likely to improve over the extra so should be competitive. TURN UP HARVEY gave a better account trying this distance last time and can feature if confirming. IT'S COMPLEX and TALES OF US are unexposed and warrant respect too. Tricky!
Selections:
#4 Golden Ducat, #1 Tambora, #5 It's Complex, #2 Turn It Up Harvey
Kenilworth, 26.10.2019, Race 3, Gallops, 1400m, Turf, R80.000, 14:00GMT+2
Race Summary: LA DE DA wasn't beaten far (despite excuses) when outrun late over further last time and a return to this trip should suit. JOY MAISHA has caught the eye in both starts (from wide draws) and on that evidence should have more tooffer over this distance. O SOLE MIO finished ahead of DUCHESS OF MALFI in a recent meeting but the latter will improve and could turn the tables.
Selections:
#2 La De Da, #7 Joy Maisha, #5 Duchess Of Malfi, #1 O Sole Mio
Kenilworth, 26.10.2019, Race 4, Gallops, 1600m, Turf, R80.000, 14:35GMT+2
Race Summary: Hot maiden. Highly rated TRACK ATTACK is going the right way and with further improvement should fight out the finish. The same, however, could be saidof progressive rivals CONGO COMPAQ and THE SECOND WAVE who were separated bywell-bred PEACEFUL DAY last time. On that evidence, they should all have more to offer trying this trip for the first time. NIXON can also get involved.
Selections:
#9 Track Attack, #8 The Second Wave, #4 Congo Compaq, #1 Peaceful Day
Kenilworth, 26.10.2019, Race 5, Gallops, 1600m, Turf, R96.000, 15:10GMT+2
Race Summary: Good race which the 3yo brigade could dominate. SIR MICHAEL has run well inhis post-maiden outings and from a good raw should play a leading role. Well-bred YORKTOWN fluffed his lines last time out but had excuses. He is highly rated and could be worth another chance. Promising ARCTIC DRIFT may have more to offer this trip. VIKRAM and MAGIC MIKE are capable of posing a threat.
Selections:
#7 Sir Michael, #5 Yorktown, #9 Arctic Drift, #1 Vikram
Kenilworth, 26.10.2019, Race 6, Gallops, 1400m, Turf, R200.000, 15:45GMT+2
Race Summary: A fascinating renewal of what could prove to be a key Guineas trial. Langerman winner SNOW REPORT pleased on his seasonal reappearance and will have come on since but familiar foe SILVER OPERATOR should have his measure on these terms. THREE TWO CHARLIE, CAPTAIN TATTERS and KING OF GEMS are all closely matched and capable of getting a look in. Include SACHDEV and SEVENTH GEAR
Selections:
#6 Silver Operator, #2 Snow Report, #8 Captain Tatters, #3 Three Two Charlie
Kenilworth, 26.10.2019, Race 7, Gallops, 1400m, Turf, R350.000, 16:20GMT+2
Race Summary: ROLL IN THE HAY and SOMEWHERE IN TIME pleased when returning from a break and should have more to offer, so from inside gates could represent value over a trip which will suit. DRIVING MISS DAISY, THIRD RUNWAY and CALYPSO BEAT can stake a claim. DRAMA QUEEN, PRETTY YOUNG THING and LARENTINA are drawn wide but remain capable. Respect unbeaten fillies WORLD RADAR and CASINO QUEEN
Selections:
#3 Roll In The Hay, #9 Somewhere In Time, #4 Third Runway, #1 Pretty Young Thing
Kenilworth, 26.10.2019, Race 8, Gallops, 1000m, Turf, R96.000, 17:00GMT+2
Race Summary: Well-bred CONSTABLE was outrun late in a Listed feature over further on hisseasonal reappearance and, on that evidence, will be better suited to this trip. CABO DA CRUZ arrives in good form but has been untried over this distance, so a bigger threat could come from DRAGON POWER who drops in class. BELLINGHAM BAY and SKIDOO have been doing enough to make their presence felt too
Selections:
#4 Constable, #3 Dragon Power, #5 Bellingham Bay, #6 Skidoo
Kenilworth, 26.10.2019, Race 9, Gallops, 1000m, Turf, R86.000, 17:40GMT+2
Race Summary: Many candidates. BINDI attracted support in a stronger race last time and, while she did fluff her lines, could make amends dropped to this level and over a trip which should. WHAT A LOVER and STELLA'S STORY are quick so could feature, but bigger threats could come from unexposed MISSISIPPI BURNING, consistent rivals PHILOMENA and MUMTAZ as well as returning MON CHERIE. Go wide
Selections:
#2 Bindi, #7 Missisippi Burning, #12 What A Lover, #9 Mon Cherie
Best Win: #4 CONSTABLE
Best Value Bet:
Best Longshot: #3 ROLL IN THE HAY