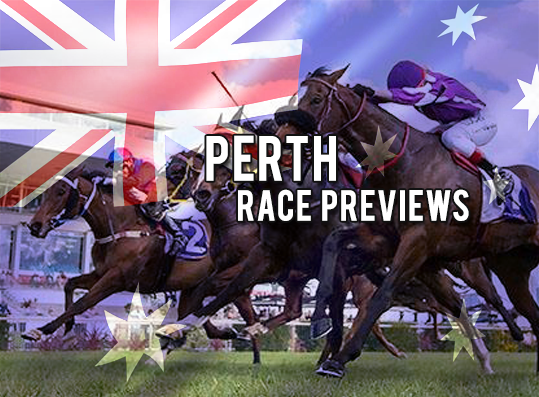 ASCOT RACE 1
8. MR MT WALKER has caught the eye in his three trials, both in February and recently.
9. THREE EZE was an expensive yearling which has looked good in his trails.
10. WALK A MILE debuts in Western Australia after several South Australian trials.
12. PAMBELLA resumes after placing fifth in her two races as a juvenile.
11. CAMBIST was well in the market for both of her two-year-old races.
ASCOT RACE 2
2. NOT TO BE MIST won two of his three races before going for his lengthy spell.
6. OCEAN'S FIFTEEN defied a betting drift to register his very impressive debut win.
1. WANNA BE GOOD reverts to midweek grade in which he is usually competitive.
7. DENIM PACK tackles midweek company for the first time since February.
3. STARTTHEFRIAR is a resuming stayer with three wins from his 12 starts.
ASCOT RACE 3
1. BOBCAT JOHNNIE smashed the clock twice before being beaten a slow tempo more than anything else.
6. SUSPECTUS regains the services of a senior jockey after bombing the start last time out.
3. BLUE SANDGROPER drops in trips after back-to-back fifth-place results.
7. HIGHFRIAR returns to the city following a couple of Northam near misses.
5. CLEVER DICK has struggled to win again after breaking his maiden last year.
ASCOT RACE 4
4. MY FAIR BALENTINE won her maiden before going close to winning in Saturday class.
6. IS A BOMBSHELL reunites with Jade McNaught, who won on her four starts ago.
1. MELTEME placed in five consecutive races before having two months off.
3. DOC FRIAR is a young stayer resuming for Adam Durrant and William Pike.
8. STELLA ANNE has a won a trial since her Belmont fourth three weeks ago.
ASCOT RACE 5
3. SILKINIZE is unbeaten in his trials and races, impressing on his only competitive start.
4. DRINKWHATYOULIKE won at Northam last time out in spite of coughing.
1. WAR SAINT was wide throughout in his only loss so he demands respect.
6. REGAL POYSE broke her maiden at Northam and rates as the stable's first string.
2. CELIATORE is the other galloper representing the Daniel Morton yard.
ASCOT RACE 6
8. WINDSTORM is the full brother of Saturday winner Sublime Image which made an eye-catching debut in August.
3. POSITION OF POWER lumped 60 kilograms to win at Belmont last time out.
6. ALTA SULL'AMORE has only the missed the top three once in her four fresh runs.
10. REWRITE THE STARS made up for her howler of a debut when winning on her second start.
4. LACEVINSKY is capable but without the X-factor of some of his opponents.
ASCOT RACE 7
5. RAYARNIE gets on well with Jason Brown and the combination were victorious last month.
1. STAIRWAYTOTHEMOON strikes an easier race than her recent assignments.
3. SHADOW HUNTER was well supported to win at Northam first up and he did.
2. ONYA HEAD has had nearly five weeks off since posting his Northam victory.
6. ARMED AND READY is worth monitoring due to the booking of William Pike.
STAR BET
ASCOT RACE 3
1. BOBCAT JOHNNIE
VALUE BET
ASCOT RACE 2
6. OCEAN'S FIFTEEN