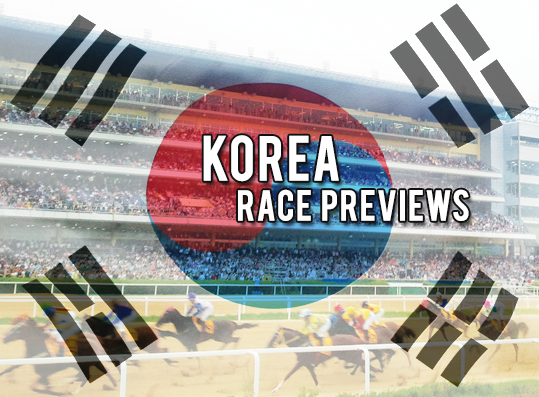 Seoul Race 5: Class 4 (1700M) Allowance / KRW 60 Million
(5) RAYMOND is a two-time winner at this distance including one at this class. He got slightly obstructed in the home straight last time when a slightly disappointing 5th but is the pick to return to the winner's circle today. (2) RAON KHAN is rapidly up in class having won his latest two. He made all last time and while he will need to be quicker at this level, he can be competitive. (1) STORMY has plenty of class and distance experience and can aim for the places here while (7) JEONGSANG MANSE and (9) MONSTER QUEEN look best of the rest.
| | |
| --- | --- |
| Selections | (5) Raymond (2) Raon Khan (9) Monster Queen (1) Stormy |
| Next Best | 7, 3 |
| Fast Start | 2, 3 |
Busan Race 2: Class 5 (1800M) Handicap / KRW 40 Million
Competitive handicap here. (6) DONGBANG NARAE has impressed recently, following up her maiden win over a mile early last month with 2nd place on her first try at this class on July 26th, beating a couple of these in the process.  She can come from just off the pace and can win again. Her main danger may be her stablemate (4) TIZBE. She secured her maiden victory in fine style last month and looks to be on an upward trajectory with the increased distance today only likely to suit. (7) GWONTOJUNGLAE hasn't quite lived up to early promise but races for the first times since May and could be interesting here. (10) ONNURI GANGJA is rarely far away and can challenge for the places along with (12) GIPPEUM DAY.
| | |
| --- | --- |
| Selections | (6) DongbangNarae (4) Tizbe (7) Gwontojunglae (12) Gippeum Day |
| Next Best | 10, 9 |
| Fast Start | 1, 4, 5 |
Seoul Race 6: Class 4 (1700M) Allowance / KRW 60 Million
(10) EMORY SOCKS has been hovering around the minor money for some time now and while she carries a bit more weight today than in previous outings, that's because Moon Se Young climbs aboard in place of an apprentice and that may be what she needs to see her back into the winner's circle. She'll be kept close to the pace and can win. (5) BLUE FIRE is becoming a 2nd place specialist, having finished as runner-up in his latest three starts. He may find one too quick again. (1) SUPER DOKKI come sin off a 3rd and a 2nd from his latest two and can go close once more. (2) DAEGUN ILGAL and (4) WHIZ RAINIER others in the hunt.
| | |
| --- | --- |
| Selections | (10) Emory Socks (1) Super Dokki (5) Blue Fire (2) DaegunIlgal |
| Next Best | 4, 6 |
| Fast Start | 2, 5, 10 |
Busan Race 3: Class 4 (1300M) Handicap / KRW 60 Million
(7) SYDNEY MANGCHI has a 3rd and a win from two starts so far and looks to have lots of potential. The Better Than Ready colt was a convincing winner over 1200M last start and while she has to travel slightly further today, she'll take some beating. Stablemate (9) GIANT'S BIZ perhaps has the best chance of stopping – or at least getting close to – the favourite although (4) BROWN PIE is a capable sort who drops back in trip after a couple of spins around a mile. She'll be on pace early and in the past has proven hard to get by. (2) TOUGH GREEN and (3) MAN OF THE MATCH others to consider for the minor money.
| | |
| --- | --- |
| Selections | (7) Sydney Mangchi (9) Giant's Biz (4) Brown Pie (2) Tough Green |
| Next Best | 3, 5 |
| Fast Start | 2, 4, 7 |
Seoul Race 7: Class 2 (1600M) Handicap / KRW 110 Million
The first ever race to be run over a mile at Seoul. There is a short run to the corner so it will be very interesting how this plays out. (5) CHEUNGDAM GENIE enters as the form horse having won his latest two over 1400M and 1200M and has three from six in total. He should be able to cope with the additional trip today and can win. (7) M J POWER too enters in good touch. He comes in off a very solid win over 1400M and while up in class should be very competitive. After a great start to his career, (4) JJANG KONG has gone off the boil a bit somewhat and the new distance may be what he needs. (6) HEUNGBOK DREAM stumbled at the start last time out but is a two-time winner over 1800M so has no questions about the trip and should be dangerous.
| | |
| --- | --- |
| Selections | (5) Cheungdam Genie (7) M J Power (6) Heungbok Dream (4) Jjang Kong |
| Next Best | 3, 8 |
| Fast Start | 1, 3, 4 |
Busan Race 4: Class 3 (1600M) Handicap / KRW 75 Million
(11) MR. AFLEET is a winner of three from four so far and steps up in class after a very nice win over 1300M on August 3rd. He tends to come from off the pace with a strong finish and with the increased distance not looking like a problem he is the pick to win this. (10) IGGYDA is already a winner at this distance, albeit at a lower level. He ran 3rd over 1400M on his first try at this class a month ago and is the main danger. (6) DAEJI CHAMP was an also-ran in the final two legs of the Triple Crown but ran 2nd when back in more amenable company last start and can place again here. (5) BLACK ARROW and (8) DAEHO MYEONGGA others in the frame.
| | |
| --- | --- |
| Selections | (11) Mr. Afleet (10) Iggyda (6) Daeji Champ (5) Black Arrow |
| Next Best | 8, 9 |
| Fast Start | 5, 6, 8 |
Seoul Race 8: Class 2 (1600M) Handicap / KRW 110 Million
The second heat of the mile and (1) DARK PLAYER had a poor day at the office last start, weakening late on when well backed over 1800M. His form prior to that though means he needs to be given another chance and the new distance may well be ideal for him. (7) IGYEOJUMA finished 2nd, ahead of Dark Player last time out and is likely to be among the main threats here. While Dark Player will be on speed, Igyeojuma will be finishing strongly. (8) THUNDER BLADE returns from five months out and having trialled up competently two weeks ago, can go well first up. (6) DAE JYUSIN missed the jump last time out and can go better today.
| | |
| --- | --- |
| Selections | (1) Dark Player (8) Thunder Blade (7) Igyeojuma (6) DaeJyusin |
| Next Best | 2, 5 |
| Fast Start | 1, 2 |