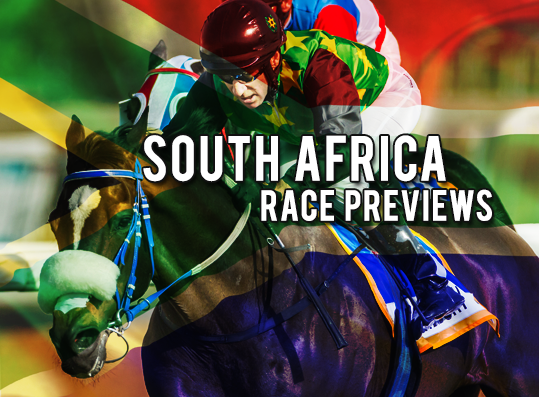 RACE BY RACE PREVIEWS: KENILWORTH@2019.08.24
Kenilworth, 24.08.2019, Race 1, Gallops, 1000m, Turf, R80.000, 13:25GMT+2
Race Summary: WARRIOR TIGER caught the eye when running on to finish 4th in a 2yo feature on Met day. He would have strengthed since and is likely to improve so if not in need of the outing could be hard to beat. WHAT A PRINCE and CAPE OF STORMS are open to improvement too, but a bigger threat could come from newcomers WINTER ASSEMBLY and TWICE AS SLEEK. Consistent IN FULL POWER can earn.
Selections:
#10 Warrior Tiger, #3 Winter Assembly, #9 Twice As Sleek, #1 In Full Power
Kenilworth, 24.08.2019, Race 2, Gallops, 1700m, Turf, R102.000, 14:05GMT+2
Race Summary: Well-bred KNIGHTS TEMPLAR has won both starts after gelding and must be followed until beaten. Ultra-consistent CROME YELLOW is at the top of his game and likely to pose the biggest threat, although AMERICAN LANDING is closely matched on these terms and capable of staking a claim too. DHARMA and GYRE aren't without hope either. Top-weight PLATINUM PRINCE has a place chance.
Selections:
#4 Knights Templar, #6 Crome Yellow, #2 American Landing, #3 Dharma
Kenilworth, 24.08.2019, Race 3, Gallops, 1000m, Turf, R80.000, 14:40GMT+2
Race Summary: Few runners with form/experience in the lineup, but MISSISIPPI BURNING is the pick of those who do and will be hard to beat with improvement likely. QUEEN OF QUIET disappointed over 1200m last time but had shown promise over this course and distance on debut, so could be worth another chance reverting to this trip. Watch the betting on newcomers SOVEREIGN SECRET and TRANSCEND.
Selections:
#4 Missisippi Burning, #9 Sovereign Secret, #11 Transcend, #5 Queen Of Quiet
Kenilworth, 24.08.2019, Race 4, Gallops, 1200m, Turf, R80.000, 15:15GMT+2
Race Summary: Tricky start to the Pick 6 but raced runners EVENING SONG (worth another chance this course and distance) and likely improvers HELLO WINTER HELLO and POSSIBILITY should be enough to negotiate Leg 1. BILLI ANN and WATCH ME NOW are others to consider. Watch the betting on newcomers MOUNTAIN RIDGE and well-related fillies STARS IN HER EYES and TRAVETIRE.
Selections:
#8 Hello Winter Hello, #9 Mountain Ridge, #11 Stars In Her Eyes, #6 Evening Song
Kenilworth, 24.08.2019, Race 5, Gallops, 1400m, Turf, R80.000, 15:50GMT+2
Race Summary: Competitive maiden. PATH OF CHOICE was outclassed in a 2yo Grade 3 as a maiden but should fare better back at this level. LEAD SINGER gave a better account after gelding last time, finishing ahead of ONLY ONE LIKE YOU, and both will also have more to offer. The latter would have come on appreciably from that run and should have a leading role to play stepping up to this trip.
Selections:
#8 Only One Like You, #2 Lead Singer, #1 Path Of Choice, #7 Mr Fergie
Kenilworth, 24.08.2019, Race 6, Gallops, 1400m, Turf, R86.000, 16:25GMT+2
Race Summary: Hard race to assess. ICON KING is likely to go forward from gate 13 under 48kg which should ensure an honest tempo that NASTY HARRY (No 1) would appreciate. SILVER LEAGUE appears the pick of the Snaith-trained trio on riding arrangements but GREEN ARCHER has solid form at this level and could upstage them all. ROCKIN' RINGO, PINK FLOYD, SAVEA and BLACK BELT all have claims too.
Selections:
#3 Green Archer, #5 Rockin' Ringo, #6 Silver League, #9 Black Belt
Kenilworth, 24.08.2019, Race 7, Gallops, 1000m, Turf, R72.000, 17:00GMT+2
Race Summary: LUMIERE finished behind CHILLY WINTER last time when probably in need of the run returning from a layoff. She should get closer on 1kg better terms and  with that run under her girth. The speedy latter runs well for her apprentice and should be right in the firing line again if confirming recent improvement. Consistent REBELS SPIRIT could also pose a threat.
Selections:
#2 Chilly Winter, #3 Lumiere, #4 Rebels Spirit, #5 Fours A Crowd
Kenilworth, 24.08.2019, Race 8, Gallops, 1700m, Turf, R80.000, 17:35GMT+2
Race Summary: There's little to choose between MELIORA and VFORVICTORY on these terms. SNOWY MOUNTAIN separated the pair last time and is weighted to get the better of both rivals. STREETFIGHTINGMAN was slow away in that race and will have arole to play if jumping on terms. PRINCE ORACY could surprise stepping up tothis trip. SAINT WEST is another to consider for Quartets. Get your bets on
Selections:
#4 Snowy Mountain, #8 Vforvictory, #11 Meliora, #9 Streetfighting Man
Best Win: #8 ONLY ONE LIKE YOU
Best Value Bet: #3 GREEN ARCHER
Best Longshot: #3 GREEN ARCHER