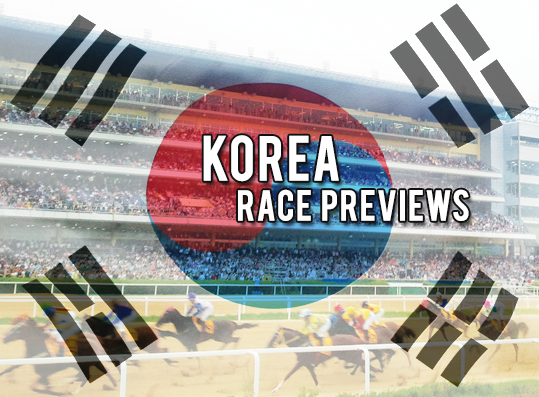 KOREA: Busan Racecourse – Sunday August 4, 2019
Race 5: Class 5 (1600M) Allowance / KRW 40 Million
(10) MAGIC FLYING ran out a class and distance winner on June 30th, with a front-running performance. He only carries slightly more weight today and could well repeat. Fifty-five race maiden (4) ONNURI GANGJA has somehow managed to register five runner-up finishes from his latest six starts and no worse than 5th in his most recent ten. He could actually win this but either way he looks at the very least as though he's set to continue his remarkable run of near-misses. Another maiden, but with far fewer miles on the clock, is (3) ROYAL TICKET. All four of his previous tries at this distance have gone well and he should be in the mix here. (7) EL DRAGON has struggled on wet tracks when well-backed in her latest two but could improve today.
| | |
| --- | --- |
| Selections | (10) Magic Flying (4) Onnuri Gangja (3) Royal Ticket (7) El Dragon |
| Next Best | 6, 8 |
| Fast Start | 2, 7 |
Race 6: Class 5 (1300M) Handicap / KRW 40 Million
(2) MENI QUEEN ran out a good winner, making all over this distance on debut on July 12th. She is up in class today but looks to have plenty of potential for more and from a nice draw, she can repeat. (8) TOHAM STAR looks a big danger though. Having got his maiden win at this distance at the end of June, he ran 2nd over this trip on a sloppy track two weeks ago and looks nicely in to go very close today. (3) WONDERFUL TALE came up short on her first try at this class a month ago. While her May win came over 1000M, she has a 3rd place to her name at this distance and can be given another chance here. (1) GOLDEN SHARP and (7) TRUE SIGNATURE are others in the hunt.
| | |
| --- | --- |
| Selections | (8) Toham Star (2) Meni Queen (3) Wonderful Tale (1) Golden Sharp |
| Next Best | 7, 9 |
| Fast Start | 2, 3, 7, 8 |
Race 7: Class 5 (1300M) Handicap / KRW 40 Million
(2) NEW QUEEN remains a maiden after fourteen attempts but enters here with a 3rd and two runner-up finishes from her latest three outings. She should be close to the early pace today and looks sure to be close once more. She may well again find one or two too quick though. (5) TIZ JOYFUL ran a slightly disappointing 6th when not allowed things her own way up front on her first try at this level last time. Hopefully she will have come on for that run and go better here. (7) LUCKY TOGETHER is up in class following her maiden win at the fourth attempt. She was a longshot that day but took to the distance well and should be competitive here form off the pace. (4) ON DAY and (9) BAEDARI SAMCHONGSA best of the rest.
| | |
| --- | --- |
| Selections | (2) New Queen (5) Tiz Joyful (7) Lucky Together (4) On Day |
| Next Best | 9, 3 |
| Fast Start | 3, 4 |
Race 8: Class 4 (1000M) Handicap / KRW 60 Million
(1) HALLA HWANGHU saw a winning streak come to an end in emphatic fashion when last over 1200M three weeks ago. She had to work hard to get to her desired position at the front of the field that day, leaving her with little left at the business end and the drop back in trip today may suit. Also dropping back in ripe is (2) YEONGGWANGUICHEON. Having registered his maiden win over this distance in June, he stepped up to 1200M for his first crack at this class and ran a creditable 3rd. He's yet to finish outside the money in six attempts so far and looks the one to beat here. It's been a long time since (6) EURO SHINHWA's solitary win but he comes in here in very consistent form and although it is true that all his recent good work has been done at 1000M, he could place again here. (4) B.K. SOUND won back to back races in February and March to be rapidly promoted to this class. We've not seen her since an underwhelming 8th in April but she has ability and could be interesting first up here.
| | |
| --- | --- |
| Selections | (2) Yeonggwanguicheon (1) Halla Hwanghu (6) Euro Shinhwa (4) B.K. Sound |
| Next Best | 7, 8 |
| Fast Start | 1, 2 |
Race 9: Class 4 (1000M) Handicap / KRW 60 Million
Eight imports line up against just the one locally-bred horse here with two first-timer starters among them. Both of those debutants looks very interesting indeed. (1) GEUMA CAVALRY is from the top Kim Young-Kwan stable and having won a trial in mid-July looks to be the one to beat here. Meanwhile, (7) THE SABER, won a trial last September but never made it to the track. He returned to training earlier this year and repeated the trick in winning another heat last month and should also be firmly in the hunt first-up. The rest are nothing to write home about. (6) CHIEF TIME is still a maiden after more than twenty attempts but he's more than capable of finding some minor money in this sort of company. Stablemate of The Saber, (3) JJUUK disappointed as favourite last start but is worth another chance of at least a place here.
| | |
| --- | --- |
| Selections | (1) Geuma Cavalry (7) The Saber (6) Chief Time (3) Jjuuk |
| Next Best | 8, 9 |
| Fast Start | 1, 2, 3, 8 |
Race 10: Class 4 (1300M) Handicap / KRW 60 Million
(5) POWER TOUCH won his first two outings (with a refusal to jump and subsequent two-month suspension sandwiched between them), before running a slightly disappointing 9th in Busan's Classic trial in March when he was again fractious in the barriers. He returns here, gelded, and having looked good when winning a trial in July. He's the one to beat. (8) YEONGGWANGUIFORCE is another who began his career in fine fashion. He hasn't quite pushed on but has run well in five attempts at this class, not finishing worse than 4th and he can be a real danger here. (2) DAEHO JILJU weakened badly over a mile last start. He drops back in trip today and should be on pace from the start. (3) SUPER GOLD and (10) ROYAL GOLD are others in the placing frame.
| | |
| --- | --- |
| Selections | (5) Power Touch (8) Yeonggwanguiforce (2) Daeho Jilju (3) Super Gold |
| Next Best | 10, 9 |
| Fast Start | 2, 5, 8, 9 |
Race 11: Class 4 (1600M) Handicap / KRW 60 Million
(5) DOCTOR CHIC has finished as runner-up in six of his twelve starts to date including three of his last four. His latest 2nd was just two weeks ago over 1300M and he steps back up in trip today with solid claims to go one better and will likely be on pace from the start. If he comes up short once more – and it's more than possible – there are plenty of candidates to take advantage. (8) RAON CAESERS is up in class following a battling maiden win over 1300M three weeks ago. This is his first try at a mile too but he should cope with the trip and can be a danger. (9) TEXAS SIDAE was 3rd over this distance on his first try at this level on July 5th and can go close again while (1) JANGSAN JOY and (2) INDIAN GANGJA are others who look capable in this company.
| | |
| --- | --- |
| Selections | (5) Doctor Chic (8) Raon Caesers (9) Texas Sidae (1) Jangsan Joy |
| Next Best | 2, 4 |
| Fast Start | 1, 4, 5 |
Race 12: Class 3 (1200M) Handicap / KRW 75 Million
(8) ARCADIA was a good winner over the distance last start on July 7th and while she's up in class today, there is little for her to fear here. Despite the widest draw, expect her to be on pace from the start and she can go all the way. (2) SUN DAY won four his first five starts and while he's not really pushed on after a couple of setbacks, he still has plenty of talent. He's two starts into a comeback following a six-month layoff and should improve today. (3) THUNDER RAIN was slightly disappointing when well backed in the wet last start but can be given another chance here. (4) FASHION OF MARINE and (6) BLACK TEN, who sport the same colours as one another, are others with placing chances.
| | |
| --- | --- |
| Selections | (8) Arcadia (2) Sun Day (6) Black Ten (3) Thunder Rain |
| Next Best | 7, 5 |
| Fast Start | 2, 5, 6 |
Race 13: Class 3 (1800M) Handicap / KRW 75 Million
(2) BRAVE KINGDOM ran a very good 2nd over this distance on what was his first try at this class and distance in early June. He can settle just behind the early pace here and run on strongly at the end. (12) MALIBU BYEOL was 4th behind Brave Kingdom in that June race. He's run once since then, improving to 2nd over the same distance three weeks ago. He too looks nicely in here and should be dangerous. (10) BAEDARI GOSU beat three of these on her way to 2nd at class and distance on July 14th. She'll be in the placing frame again although (4) CHIEF LEADER, 4th that day, can be expected to go a bit better this time. (6) TUFELLO is up in class after a three-length score over a mile at the start of June. He comes in here fresh and could be a factor.
| | |
| --- | --- |
| Selections | (2) Brave Kingdom (12) Malibu Byeol (4) Chief Leader (6) Tufello |
| Next Best | 10, 7 |
| Fast Start | 1, 3, 12 |
Race 14: Class 2 (1200M) Handicap / KRW 90 Million
(3) TANGY BITE was a touch disappointing when only 5th at class and distance three weeks ago. He left himself a little too much to do that day but has plenty of ability and is worth another chance today. He was beaten that day by (2) USEUNG HWANHO, who came home in 3rd place to continue a recent run of positive form. Useung Hwanho is well drawn to be on speed from the start and he has every chance again. A winner of five from eleven, (5) FINAL ENERGY is up in class after a good win at this distance last time out and has every chance of being competitive today. (1) AJU CHOEGANG and (9) JIGEUKCHEONWANG, the latter racing for the first time this year having looked very sharp in trials, are others to consider.
| | |
| --- | --- |
| Selections | (3) Tangy Bite (2) Useung Hwanho (5) Final Energy (9) Jigeukcheonwang |
| Next Best | 1, 7 |
| Fast Start | 2, 4, 8, 9 |
Race 15: Class 1 (1800M) Allowance / KRW 110 Million
(5) WORLD DAY comes in having run 4th to Dolkong in the Busan Mayor's Cup at the end of June. That was a big performance and just his second defeat. Back in regular class 1 company today, he should have too much. (2) JUMBO BLADE and (8) GREAT KING were further back in that same race and against more amenable opposition today, can get closer. A class and distance winner in May, (9) NEW YORK MANGCHI came up short when sent off as favourite in a similar race to this on July 14th. He still managed to finish 2nd though, beating three of these along the way and looks the most credible threat to the favourite here. (1) ADELEUI CHUKJE is rarely very far away and can pick up some more minor money today.
| | |
| --- | --- |
| Selections | (5) World Day (9) New York Mangchi (2) Jumbo Blade (8) Great King |
| Next Best | 1, 4 |
| Fast Start | 3, 4, 5, 8 |