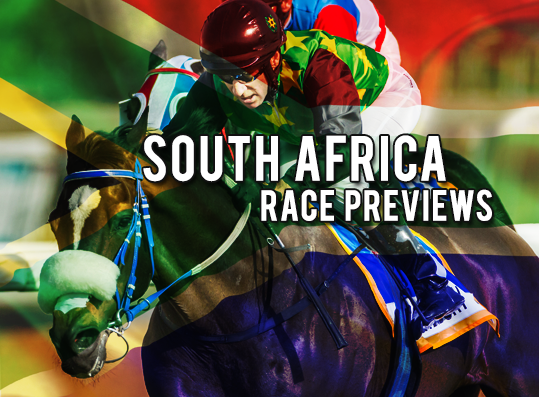 RACE BY RACE PREVIEWS: GREYVILLE@2019.07.06
Greyville Polytrack, 06.07.2019, Race 1, Gallops, 1200m, Poly, R115.000, 11:25GMT+2
Race Summary: A day to feel rich with top quality racing and HUGE POOLS – play to your heart's desire! The first race is quite competitive and the quartet promises much. ANCIENT SPIRIT ran a nice race at Scottsville and has won here. Should go close. STRAWBERRY WINE has given signs she can go close for a stable in hot form. VARSITY LOVER and MADE IN HOLLYWOOD are dark horses. Wide open.
Selections:
#8 Ancient Spirit, #10 Strawberry Wine, #6 Varsity Lover, #7 Made In Hollywood
Greyville Polytrack, 06.07.2019, Race 2, Gallops, 1000m, Poly, R135.000, 12:05GMT+2
Race Summary: The start of the much anticipated first Bipot. ATTENBOROUGH has top class credentials especially over this distance. He showed on the poly earlier and has drawn well. BASILIUS took Grade 1 winner Van Halen to the wire last time and could repeat that effort on the poly. ON THAT BOULEVARD has also drawn well and with FILIPPO, ISHNANA and CHANTYMAN rates a big shout on form.
Selections:
#2 Attenborough, #6 Basilius, #7 On That Boulevard, #8 Ishnana
Greyville, 06.07.2019, Race 3, Gallops, 2200m, Turf, R500.000, 12:50GMT+2
Race Summary: The July Consolation boasts a good contest featuring promising three-year-olds versus hard knocking older runners. BUNKER HUNT gives weight to all and has to jump from the widest of draws but has shown the class needed. ZILLZAAL has promised much and he is maturing. CHARLES needs to time it right. DARK MOON RISING, GIMME ONE NIGHT, RUN RED and SHENANIGANS are dangerous.
Selections:
#1 Bunker Hunt, #5 Zillzaal, #4 Charles, #9 Shenanigans
Greyville, 06.07.2019, Race 4, Gallops, 3000m, Turf, R500.000, 13:35GMT+2
Race Summary: Expect a HUGE PICK 6 Pool! Never easy the Gold Vase. SUNSHINE SILK has blossomed into a fair Highveld stayer and is well weighted on her Greyville debut. She has a wide draw however. FLICHITY BY FARR was 2nd last year and has a great record here. She can go one better. DYNASTY'S BLOSSOM is dangerous on her day. STRATHDON, WALTER SMOOTHIE and PACIFIC CHESTNUT can do it.
Selections:
#8 Sunshine Silk, #10 Flichity By Farr, #9 Dynasty's Blossom, #1 Strathdon
Greyville, 06.07.2019, Race 5, Gallops, 1400m, Turf, R600.000, 14:25GMT+2
Race Summary: A race loaded with talent. GABOR was impressive on debut. She switches to turf and goes further which she could relish but has drawn very wide. CAVIVAR was unlucky in a Grade 1  last but has drawn badly as well. VICTORIA PAIGE and MISS FLORIDA are unbeaten after two races and must be taken seriously. MAWSOOL, ROLL IN THE HAY, ROYAL LILY and TRUE TO LIFE can get away.
Selections:
#3 Gabor, #1 Cavivar, #6 Miss Florida, #13 Victoria Paige
Greyville, 06.07.2019, Race 6, Gallops, 1400m, Turf, R600.000, 15:10GMT+2
Race Summary: EDEN ROC has won both starts over different distances and in different regions let alone racecourses. He is a Grade 1 winner that should keep getting better. INVIDIA is improving nicely as well. He will make them all run racing near the front. EDEN ROC's stable mates PUTONTHEREDLIGHT and ROCK THE GLOBE are capable. AQUA DELTA and CARTEL CAPTAIN should relish the trip as well.
Selections:
#5 Eden Roc, #7 Invidia, #13 Putontheredlight, #1 Aqua Delta
Greyville, 06.07.2019, Race 7, Gallops, 2200m, Turf, R4.250.000, 16:20GMT+2
Race Summary: Great race and SA's Horse Of The Year title may be decided here. Get your bets on and be part of history! HAWWAAM has a sparkling record but is tested against his elders at the highest level. DO IT AGAIN is proven this trip having won in 2018 and can indeed do it again. RAINBOW BRIDGE has pipped him before-watch out. TWIST OF FATE is a serious sort. LEGAL EAGLE has claims.
Selections:
#4 Hawwaam, #1 Do It Again, #2 Rainbow Bridge, #6 Twist Of Fate
Greyville, 06.07.2019, Race 8, Gallops, 1600m, Turf, R150.000, 17:30GMT+2
Race Summary: TRISTFUL was a good 5th in the Cup Trial. The form has been franked and he should have every chance even if having only won over 1400 metres. THANKSGIVING on the other hand was ahead of him when 5th in the Guineas here and has won over this trip. Doesn't end there. SA Derby 3rd MARCHINGONTOGETHER has been gelded-big respect. INFAMOUS FOX, CROWN TOWERS and SNIPER SHOT can score.
Selections:
#9 Tristful, #3 Thanksgiving, #4 Marchingontogether, #1 Infamous Fox
Greyville, 06.07.2019, Race 9, Gallops, 1600m, Turf, R1.000.000, 18:10GMT+2
Race Summary: Smashing Grade 1 for the girls. History maker OH SUSANNA  was in need of it and yet bagged a Grade 2. She goes out to remain unbeaten at this venue. FRONT AND CENTRE has been shifting around after jumping from wide draws. In her third try at Greyville she may live up to her name. SANTA CLARA is not one to take lightly on form. TEMPLE GRAFIN and ROY'S RIVIERA should be there.
Selections:
#11 Front And Centre, #1 Oh Susanna, #12 Santa Clara, #13 Temple Grafin
Greyville, 06.07.2019, Race 10, Gallops, 1300m, Turf, R1.000.000, 18:50GMT+2
Race Summary: KAYDENS PRIDE has been impressive at this venue be it on poly or turf. He can complete a hat trick. MASTER JAY caught the eye in a Grade 1 and could get a better passage this time so rates a serious contender. AFRICAN WARRIOR is unbeaten in three starts here (with barrier trial on poly added) and finished ahead of MASTER JAY last. Speedy WAVE did best in that Grade 1.
Selections:
#4 Kaydens Pride, #6 Master Jay, #1 African Warrior, #7 Wave
Greyville Polytrack, 06.07.2019, Race 11, Gallops, 1200m, Poly, R130.000, 19:30GMT+2
Race Summary: EXCLUSIVE QUANTITY is on a roll and has a chance of completing a hat trick. With a plum draw will go all out for a first win on the poly. Stable mate DESOLATE ROAD has also had wide draws and would be deserving so the pair should be there. HEY BOY and VAN HALEN renew rivalry and HEY BOY has experience on the poly. Consider MIGHTY HIGH, GOLIATH HERON and MYTHICAL BOLT.
Selections:
#4 Exclusive Quantity, #11 Hey Boy, #1 Van Halen, #3 Desolate Road
Greyville Polytrack, 06.07.2019, Race 12, Gallops, 1400m, Poly, R115.000, 20:10GMT+2
Race Summary: Tough race to end and the payouts should be good. PRICELESS RULER only just got there last time but will be at a peak here and can build on that. RED SHIFT is dangerous back on the poly even if this is his toughest assignment to date. KAPEN PRIDE is knocking at the door again and can finally notch up his next career win. ANCESTRY and DUKE OF SPIN have the potential to upset
Selections:
#3 Priceless Ruler, #8 Red Shift, #4 Kapen Pride, #7 Ancestry
Best Win:
Best Value Bet:
Best Longshot: