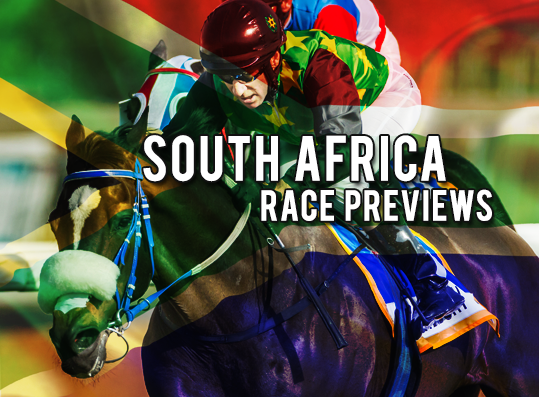 RACE BY RACE PREVIEWS: DURBANVILLE@2019.03.23
Durbanville, 23.03.2019, Race 1, Gallops, 1250m, Turf, R80.000, 13:50GMT+2
Race Summary: EMPIRE GLORY caught the eye last time in his first as a gelding when getting going late to finish ahead of IN FULL POWER and he would have come on since so should confirm. The latter failed to go through with his effort on that  occasion but could so with blinkers now fitted. BILLY NO MATES could also show improvement after gelding. Watch newcomers GOLDEN TIPPY and KRONUNG.
Selections:
#1 Empire Glory, #2 In Full Power, #10 Kronung, #8 Golden Tippy
Durbanville, 23.03.2019, Race 2, Gallops, 1250m, Turf, R80.000, 14:25GMT+2
Race Summary: LOUISA MAY and SPIRIT FESTIVAL should be competitive but the former is preferred and may enjoy the run of the race reverting to a sprint from gate No 1. Both QUEEN OF POP and SILVER DAZZLE are open to any amount of improvement after pleasing debut displays. Watch the betting on the latter who returns from a rest with Domeyer engaged to ride.
Selections:
#1 Louisa May, #9 Silver Dazzle, #8 Queen Of Pop, #2 Spirit Festival
Durbanville, 23.03.2019, Race 3, Gallops, 2400m, Turf, R86.000, 15:00GMT+2
Race Summary: Tricky. ANCESTRY has plummetted to an attractive mark but may be found wanting over this trip under a big weight. LINE EDITOR finished ahead of that rival last time and has won over the course and distance but, along with PARADA MARCH, may struggle to confirm the form of previous meetings with BOLD ASSASSIN on these terms. ALDATO and THE SILVA FOX have earning potential.
Selections:
#6 Bold Assassin, #5 The Silva Fox, #3 Parade March, #2 Line Editor
Durbanville, 23.03.2019, Race 4, Gallops, 2000m, Turf, R80.000, 15:35GMT+2
Race Summary: Unexposed Dynasty geldings LUXEMBURG and SWEET WILLIAM have a few lengths to find on MIDDLE WOOD but with natural improvement could reverse the form with that rival who is no stranger to overcoming wide draws. YOSMA and stable companion BOLD VISION could get a look in if confirming recent improvement. SNOWY MOUNTAIN could have more to offer over this distance.
Selections:
#11 Luxemburg, #12 Sweet William, #3 Middle Wood, #8 Snowy Mountain
Durbanville, 23.03.2019, Race 5, Gallops, 2000m, Turf, R80.000, 16:10GMT+2
Race Summary: Costly to follow JE NE SAIS QUOI wasn't given the best ride last time but with blinkers removed could make amends and turn the tables on improving duo MARY MOON and SILVERY HEIGHTS who should be competitive again. BIG SUZE and FOREST FIELD are closely matched with that trio so could stake a claim too. FLYING SQUADRON is bred to enjoy the trip so can't be discounted either.
Selections:
#1 Je Ne Sais Quoi, #2 Mary Moon, #3 Silvery Heights, #4 Big Suze
Durbanville, 23.03.2019, Race 6, Gallops, 1600m, Turf, R102.000, 16:45GMT+2
Race Summary: Good race. LIBRA took advantage of her superior fitness when getting the better of PEARL JAM and HEMERO over 1400m last time and should be competitive again in her peak outing. However, HEMERO would have come on since and is weighted to turn the tables over a distance which does all her winning. MISS PLUMCAKE is capable of making her presence felt under just 51,5kg.
Selections:
#5 Hemero, #2 Libra, #6 Pearl Jam, #7 Miss Plumcake
Durbanville, 23.03.2019, Race 7, Gallops, 1400m, Turf, R102.000, 17:20GMT+2
Race Summary: A good race featuring several smart sorts. Both EARTH HOUR and KENNY TRIX race well on the speed so should ensure an honest tempo. READY STEADY GO finished ahead of MAN ABOUT TOWN and ORAKAL in a Listed race over further and should confirm over this shorter trip on these terms. Unexposed MACHIAVELLI caught the eye in a comeback sprint recently and should have more to offer.
Selections:
#8 Machiavelli, #3 Ready Steady Go, #1 Man About Town, #6 Kenny Trix
Durbanville, 23.03.2019, Race 8, Gallops, 1000m, Turf, R80.000, 17:55GMT+2
Race Summary: RACINE has rediscovered her form with blinkers on and hit the woodwork in both starts when donning the headgear under this apprentice – she is most likely to score here. ALSFLAMINGBEAUTY and stable companion WHAT A RED are capable of posing a threat over this trip and should be competitive, though the same could be said of ICON PRINCESS reverting to a sprint.
Selections:
#4 Racine, #3 Alsflamingbeauty, #1 Icon Princess, #10 Pippielangkous
Best Win: #5 HEMERO
Best Value Bet: #6 BOLD ASSASSIN
Best Longshot: #6 BOLD ASSASSIN